Reviewed by Brad Manker
Review Source: Teaching for Change
Book Author: Shannon Stocker
If your ears can't hear the strum, or hum, or thrum of a melody, can music still swirl and whirl?
Talented Evelyn Glennie embraced music from a young age but gradually grew deaf. Her audiologist, and others around her, predicted that she would have to give up music forever. Supported by her parents and guided by a music teacher, a determined Glennie learned to "feel" music and eventually became a world-renowned musician.  Shannon Stocker's charming biography of the deaf percussionist is a story of talent, perseverance, and an exploration of alternate ways people experience and produce music.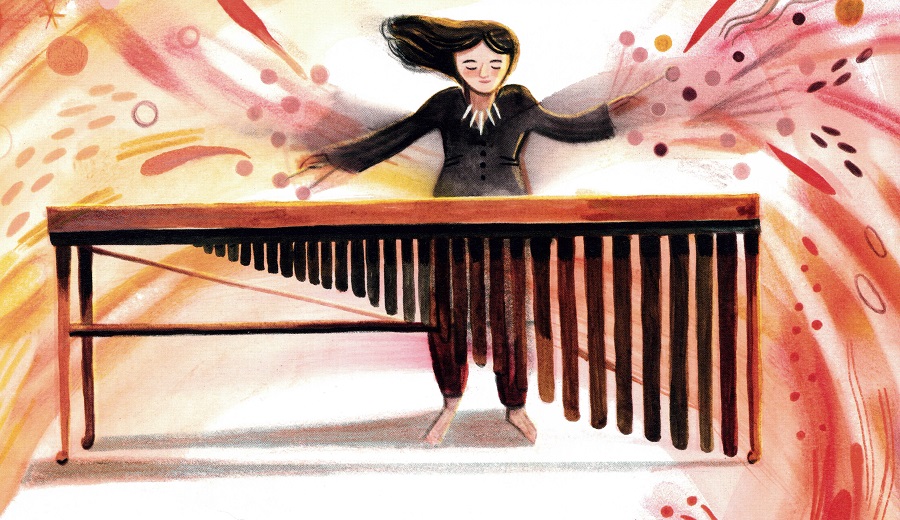 Stocker's lyrical story hums along, peppered with instrumental onomatopoeia, making it an excellent choice for a read-aloud. Devon Holzwarth's rich illustrations vibrate as they dance throughout the pages, perfectly capturing the essence of music in swirling, colorful brushstrokes. (An additional bonus for any music teacher is the wide variety of illustrated musical instruments!) Some readers may find Evelyn's disparaging attitude toward deaf schools a disappointing blemish in an otherwise lovely biography about a contemporary hero. Nonetheless, this inspirational picture book reminds young children that listening doesn't always involve the ears.
Brad Manker serves as a fellow with Teaching for Change. He is an educator, curriculum designer, and independent researcher with a background in elementary education.
---

Listen
by
Shannon Stocker
Published by
Penguin
on April 12, 2022
Genres:
Disabilities
,
Music
Pages:
40
Reading Level:
Grade K
,
Grades 1-2
ISBN:
9780593109700
Review Source:
Teaching for Change
Publisher's Synopsis:

Schneider Family Book Award Winner

A gorgeous and empowering picture book biography about Evelyn Glennie, a deaf woman, who became the first full-time solo percussionist in the world.

"No. You can't," people said.But Evelyn knew she could. She had found her own way to listen.

From the moment Evelyn Glennie heard her first note, music held her heart. She played the piano by ear at age eight, and the clarinet by age ten.

But soon, the nerves in her ears began to deteriorate, and Evelyn was told that, as a deaf girl, she could never be a musician. What sounds Evelyn couldn't hear with her ears, though, she could feel resonate through her body as if she, herself, were a drum.

And the music she created was extraordinary. Evelyn Glennie had learned how to listen in a new way. And soon, the world was listening too.