Reviewed by Judy Richardson
Review Source: Independent
Book Author: Patricia Hruby Powell
Children's Book on Ella Baker: A Critical Review by a SNCC Veteran
As a former Student Nonviolent Coordinating Committee (SNCC) staff worker who knew Ms. Baker, I looked forward to reading the 2020 picture book, Lift as You Climb: The Story of Ella Bake by Patricia Hruby Powell. Ms. Baker was a legendary organizer whose contributions to the Civil Rights Movement are hailed by Movement veterans and young activists alike. I hoped this new picture book would help share the power — and legacy — of her work with young people in a way that would help them understand the role they could play in movements for change.
Some of that comes through in this book. I certainly appreciated the focus on Ms. Baker's organizing among lower-income Black communities and her struggle against the hierarchical, sexist male leadership that then existed in most of the major civil rights organizations.
Unfortunately, however, a child would not come away understanding Ms. Baker's primary legacy (simplified for young readers, of course): her incredible impact on young organizers then and now; her grassroots, non-hierarchical organizing style; and her belief that it is more effective to have many local leaders than one charismatic leader. It is these organizing principles that she passed on to the young organizers in SNCC. More importantly, these concepts continue to influence social justice organizing today. There is a reason that SNCC folk always mention Ms. Baker as the person who grounded their work and their understanding of the world. There is a reason why young activists in the various Black Lives Matter groups know Ms. Baker's name: her work provides lessons for current organizing. Continue reading.
---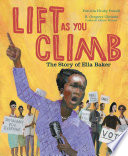 Lift as You Climb
by
Patricia Hruby Powell
Published by
Simon and Schuster
on June 9, 2020
Genres:
Activism
,
African American
,
Biography and Autobiography
,
Civil Rights Movement
,
Girls and Women
Pages:
48
Reading Level:
Grade K
,
Grades 1-2
ISBN:
9781534406230
Review Source:
Independent
Learn about the civil rights activist Ella Baker in this inspiring picture book from Sibert Honor winner Patricia Hruby Powell and Caldecott Honor winner R. Gregory Christie.

"What do you hope to accomplish?" asked Ella Baker's granddaddy when she was still a child. Her mother provided the answer: "Lift as you climb."

Long before the civil rights movement of the 1950s and 60s, Ella Baker worked to lift others up by fighting racial injustice and empowering poor African Americans to stand up for their rights. Her dedication and grassroots work in many communities made her a valuable ally for leaders like Dr. Martin Luther King Jr., and she has been ranked as one of the most influential women in the civil rights movement. In the 1960s she worked to register voters and organize sit-ins, and she became a teacher and mentor to many young activists.

Caldecott Honor winner R. Gregory Christie's powerful pictures pair with Patricia Hruby Powell's poignant words to paint a vivid portrait of the fight for the freedom of the human spirit.