Reviewed by Allie Jane Bruce
Review Source: American Indians in Children's Literature
Book Author: Shelley Tougas
At the outset of Laura Ingalls Is Ruining My Life, twelve-year-old Charlotte makes it clear that she finds her mom's obsession with Laura Ingalls irritating. Anytime Mom or Rose (Charlotte's younger sister) reference the Little House books or Laura Ingalls, Charlotte's reaction is somewhere in the ballpark of "Seriously?" or "Ugh." On page 8, Charlotte thinks:
Realistically, I was stuck with Laura for a year. I had to deal with her the way you deal with an upset stomach. You wait it out. Eventually you puke and feel better.
On their move from Lexington, Kentucky to Walnut Grove, Minnesota, Mom decides they must stop and eat at a diner they see, called "Prairie Diner". When Mom starts to engage a waitress on the subject, Charlotte thinks (p. 9):
I needed to shut this down before Mom launched her crazy spirit-of-Laura explanation.
It is important to note, however, that Charlotte's negative reactions have nothing to do with any inkling that the books, or Laura herself, are racist or problematic. Charlotte is irritated because she is a snarky, often pessimistic character, and the idea of Laura's spirit calling out to Mom's creative soul rubs her the wrong way.
---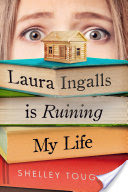 Laura Ingalls Is Ruining My Life
by
Shelley Tougas
Published by
Roaring Brook Press
on October 10th 2017
Genres:
Racism
Pages:
304
Reading Level:
Grades 3-5
ISBN:
9781626724181
Review Source:
American Indians in Children's Literature
A life on the prairie is not all its cracked up to be for one girl whose mom takes her love of the Little House series just a bit too far.

Charlotte's mom has just moved the family across the country to live in Walnut Grove, "childhood home of pioneer author Laura Ingalls Wilder." Mom's idea is that the spirit of Laura Ingalls will help her write a bestselling book. But Charlotte knows better: Walnut Grove is just another town where Mom can avoid responsibility. And this place is worse than everywhere else the family has lived—it's freezing in the winter, it's small with nothing to do, and the people talk about Laura Ingalls all the time. Charlotte's convinced her family will not be able to make a life on the prairie—until the spirit of Laura Ingalls starts getting to her, too.