Reviewed by: Kathleen Nganga
Review source: Teaching for change
Authors: Deborah Mills, Alfredo Alva
La Frontera: El viaje con papá ~ My Journey with Papa is the true story of Alfredo Alva and his family's migration from La Ceja, Mexico to the United States. Written by Alva and his neighbor Deborah Mills, the bilingual story tells Alva's family history living in La Ceja, their struggles subsisting there, and, after facing chronic hunger and destitution, his family's hard decision to send Alva and his father on the harrowing journey to the United States.
This story is an important migration narrative. The book highlights some of the reasons why people choose to immigrate and to do so with children. Before Alva and his father leave for their journey his mother tells him, "You must think of yourself as a little bird who does not need much to eat or drink to keep flying." Alva's mother clearly understood the dangers of getting to the United States but also understood the untenable situation that their family faced in La Ceja. The book provides extensive details about the path Alva and his father take to the United States, the people they meet, and the challenges they face.
At the end of the book, Alva and Mills provide a brief history of the Mexican-American War, immigration, and Alva's family. This book is a critical read especially as parents and children are separated by US immigration enforcement, children are placed in caged facilities, and the US expands exclusionary immigration policies. La Frontera: El viaje con papá ~ My Journey with Papa also offers a counter policy narrative, one about the possibilities of gracious immigration policies, in this case, it is a narrative about the possibilities of amnesty. Therefore, this book humanizes US immigration policy conversations and statistics. It offers young readers a chance to engage with the lived experiences of one immigrant boy and extension the many immigrant narratives the echo Alva's.
---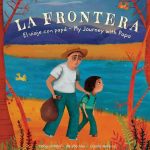 La Frontera / The Border
by
Deborah Mills
,
Alfredo Alva
Published by
Barefoot Books
on 2018
Genres:
Bilingual
,
Biography and Autobiography
,
Family
,
Immigration and Emigration
,
Latinx
,
Mexico
Pages:
48
Reading Level:
Early Childhood
,
Grade K
,
Grades 1-2
,
Grades 3-5
ISBN:
9781782853886
Review Source:
Independent
Join a young boy and his father on a daring journey from Mexico to Texas to find a new life. They'll need all the resilience and courage they can muster to safely cross the border ? la frontera ? and to make a home for themselves in a new land.