Reviewed by Beverly Slapin
Review Source: De Colores: The Raza Experience in Books for Children
Book Author: Yuyi Morales
With his sugar-skull face and Día-de-los-Muertos outfit consisting of a bowler hat, wristwatch, and braces to hold his teeth in, Señor Calavera is polite yet insistent. It's time, he says, for Grandma Beetle to come along with him. Pues, Señor Calavera will soon to find out that Grandma Beetle has other plans — she's staying around for awhile, and Mr. Death will just have to wait — "just a minute."
From the first double-page spread — in which a grinning Señor Calavera tips his hat to the left and Grandma Beetle, with a bemused expression on her face, nods to the right — young readers, especially Mexican and Mexican American children, will guess that something hilarious is about to happen. The scene is set: Señor Calavera's not hiding who he is, and Grandma Beetle has no intention of going with him. The only one who seems frightened is a little black-and-white kitten, who runs away — or hides, or tries to appear large — on every spread.
And Señor Calavera, impatiently checking his watch, waits. He waits "just a minute," while Grandma sweeps ONE (UNO) house, "just a minute," while she boils TWO (DOS) pots of tea, "just a minute," while she prepares THREE (TRES) stacks of tortillas, "just a minute," while she slices FOUR (CUATRO) fruits, "just a minute," while she melts FIVE (CINCO) cheeses, "just a minute," while she cooks SIX (SEIS) pots of food, "just a minute," while she fills SEVEN (SIETE) piñatas with candy, "just a minute," while she arranges EIGHT (OCHO) platters of food on the table, and "just a minute," while her NINE (NUEVE) beautiful grandchildren come through the door to celebrate her birthday. And when everyone is seated, Grandma pulls up a chair for — ¿puedes adivinar quién? — guest number TEN (DIEZ), a very happy Señor Calavera himself, whose expression says he can't believe he's actually been welcomed to join the festivities. Continue reading.
This book is also included in the Freedom Reads book talk series: Freedom Reads: Episode 5 – Just a Minute: A Trickster Tale and Counting Book
---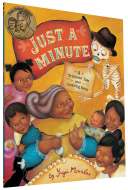 Just a Minute
by
Yuyi Morales
Published by
Chronicle Books
on March 15, 2016
Genres:
Afro-Latino
,
Family
,
Folklore
,
Latinx
,
Mathematics
Pages:
36
Reading Level:
Early Childhood
,
Grade K
ISBN:
9780811864831
Review Source:
De Colores: The Raza Experience in Books for Children
Also by this author:
Little Night/Nochecita
,
Rudas: Nino's Horrendous Hermanitas
,
Dreamers
Publisher's Synopsis: This original trickster tale, with its vivacious illustrations and dynamic read-aloud text, is at once a spirited tribute to the rich traditions of Mexican culture and a perfect introduction to counting in both English and Spanish.