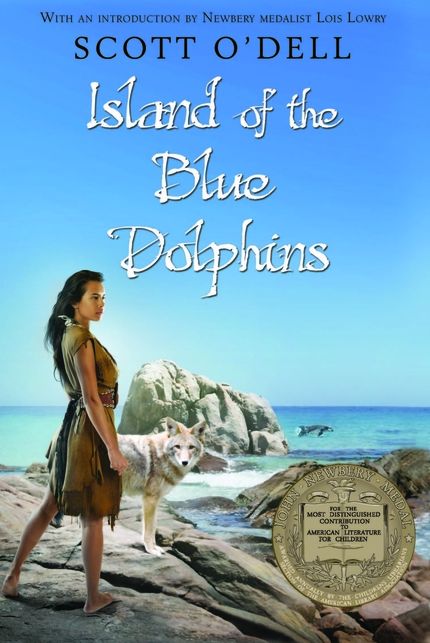 Reviewed by Debbie Reese
Reviewed Source: American Indians in Children's Literature
Book Author: Scott O'Dell
Update on Sep 24, 2018: I (Debbie), shared this post on Twitter yesterday because I was critiquing a young adult novel in which the author cited Island of the Blue Dolphins as a significant book from her childhood. Dr. Eve Tuck read my tweet, this post, and responded. Dr. Tuck is Aleut and is an Education professor who has served as editor of NCTE's English Journal. See her article, "Decolonization is not a metaphor", and her books, listed at her website. With her permission, I am adding her response to my tweet and article. They are at the bottom of this post.
---
A Critical Look at O'Dell's Island of the Blue Dolphins

Debbie Reese (published here on June 16, 2016)
Scott O'Dell's Island of the Blue Dolphins is set on San Nicolas Island, a small island off the coast of Santa Barbara California. In the Author's Note at the back of the book, O'Dell writes that "[t]he girl Robinson Crusoe whose story I have attempted to re-create actually lived alone upon this island from 1835 to 1853, and is known to history as The Lost Woman of San Nicolas" (p. 187). Because nobody could understand her language, her given name is not known. Named Juana Maria by the Mission priest who took her in at Santa Barbara Mission, she died six weeks after her rescue. To anthropologists, the people of the island are known as Nicoleños.
In his story, O'Dell changes Juana Maria's status to a twelve-year old girl named Karana. As the story opens, Karana and her little brother Romo are digging roots when a ship arrives. On board is a Russian captain named Orlov who has come with forty of his (Aleut) men to hunt sea otter. Based on past experiences, Chief Chowig (Karana's father) and Orlov have a tense discussion about what the Ghalas-at will receive in return for the otters that will be taken from the waters that abut the island. Months later when Orlov readies to leave without holding up his end of the bargain, a fight breaks out. Most of the men of Ghalas-at, including Chowig, are killed. Two years later, the survivors are rescued. After the rescue ship leaves the cove, Karana realizes Romo is not on board. She jumps ship to stay with him and wait for another rescue ship. Soon after, wild dogs kill Romo, and Karana is alone until her rescue. Continue reading.
---

Island of the Blue Dolphins
by
Scott O'Dell
Published by
Houghton Mifflin Harcourt
on 1960
Genres:
American Indians First Nations Metis Inuit
Pages:
184
Reading Level:
Grades 6-8
ISBN:
9780395069622
Review Source:
American Indians in Children's Literature
Publisher's Synopsis: Far off the coast of California looms a harsh rock known as the island of San Nicholas. Dolphins flash in the blue waters around it, sea otter play in the vast kep beds, and sea elephants loll on the stony beaches.

Here, in the early 1800s, according to history, an Indian girl spent eighteen years alone, and this beautifully written novel is her story. It is a romantic adventure filled with drama and heartache, for not only was mere subsistence on so desolate a spot a near miracle, but Karana had to contend with the ferocious pack of wild dogs that had killed her younger brother, constantly guard against the Aleutian sea otter hunters, and maintain a precarious food supply.

More than this, it is an adventure of the spirit that will haunt the reader long after the book has been put down. Karana's quiet courage, her Indian self-reliance and acceptance of fate, transform what to many would have been a devastating ordeal into an uplifting experience. From loneliness and terror come strength and serenity in this Newbery Medal-winning classic.