Reviewed by Beverly Slapin
Review Source: De Colores
Book Author: Bettina Restrepo
The Cover
A teenage girl stands on dirt mixed with brambles, pieces of ragweed, and burned-out remnants of cypress roots. Nothing will ever grow where she stands. The girl faces away from the reader and away from her home. Her eyes are focused ahead, at tall buildings in what appears to be Houston, across the Mexican-US border. The blue sky on the "American" side frames her face and neck, and a breeze blows back her hair. She wears a white Mexican peasant blusa with embroidered trim, which reveals skin at her back and part of her face, offsetting her brown complexion and high cheekbones. Above her head, in large purple italics—with a barbed-wire design running across it—is the title: "Illegal." This young person's immigration status is all that defines her.
The CIP page lists the word "illegal," and the phrases, "illegal immigrant" and "illegal aliens," but not "undocumented." The epigraph states (in caps): WE ARE ALL IMMIGRANTS.
This is all a set-up for younger YA readers, documented and not.
People who cross without documents do not not refer to themselves as "illegal." They use the term "indocumentado" (undocumented) or "sin papeles" (without papers). In truth, ¡Ningún ser humano es ilegal!—To be human is never illegal.
The Story
In this first-person narrative, 14-year-old Nora and her mother, searching for Nora's father, make the harrowing journey from their small Mexican town of Cedula, to Houston, Texas. He had left three years before, seeking work to support his small impoverished family.
In attempting to describe the difficulties faced by undocumented young people, Restrepo exploits the story with stereotypical shortcuts. Everything that could possibly be wrong is wrong—from faulty Spanish (including Espanglish and code-switching) to inappropriate Black English to thoughtless cultural symbolism to common tropes about Mexican people to statements of misplaced ideological positions in characters' mouths—it's all problematic, to say the least.
Faulty character development aside, Illegal is culturally, factually and historically illogical. Continue reading.
---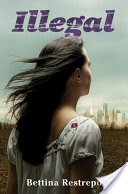 Illegal
by
Bettina Restrepo
Published by
Harper Collins
on March 8, 2011
Genres:
Immigration and Emigration
Pages:
272
Reading Level:
Grades 6-8
ISBN:
9780062069788
Review Source:
De Colores: The Raza Experience in Books for Children
Publisher's Synopsis: In this timely and gripping novel, author Bettina Restrepo exposes the challenges of one girl's unique yet universal immigrant experience. This is an eye-opening look into the harrowing journey a family takes to forge a more hopeful future.

Nora is on a desperate journey far away from home. When her father leaves their beloved Mexico in search of work, Nora stays behind. She fights to make sense of her loss while living in poverty—in wait of her father's return and a better day.

When the letters and money stop coming, Nora decides that she and her mother must look for him in Texas. After a frightening experience crossing the border, the two are all alone in a strange place. Nora must find the strength to survive while aching for small comforts: friends, a new school, and her quinceañera.

* Booklist Top Ten First Novels for Youth * YALSA Quick Pick for Reluctant Young Adult Readers * Amelia Bloomer List * TAYSHAS Reading List Pick *