Reviewed by Deborah W. Thomas
Tellin' Stories Roving Readers Coordinator
Review Source: Teaching for Change
Book Author: Breanna J. McDaniel
Hands up! What comes to mind when you hear that? Is it a command, a request, a statement? Does "hands up!" illicit feelings of anger, negativity or sadness?
Breanna McDaniel shows us in this children's picture book, illustrated by Shane Evans, that raising our hands can have both positive and joyous effects in our lives. We watch as she grows from a little girl raising her hands in early morning, stretching them high. Or just doing everyday things like raising hands in play with her parents or getting dressed. Getting older, you can reach higher. Or raising your hands because you know the answer to the questions asked in school.
Hands up while riding your bike, playing basketball, giving a high five, or when singing praises. Finally, she raises her hands together with others to show support in protest a march for her cause and those causes of others. There can be positive side to things we face in everyday life, you just must look for it.
---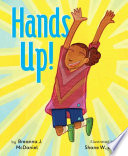 Hands Up!
by
Breanna J. McDaniel
Published by
Penguin
on 2019
Genres:
Read Alouds
Pages:
32
Reading Level:
Grade K
Review Source:
Teaching for Change
Publisher's Synopsis: This triumphant picture book recasts a charged phrase as part of a black girl's everyday life--hands up for a hug, hands up in class, hands up for a high five--before culminating in a moment of resistance at a protest march.

A young black girl lifts her baby hands up to greet the sun, reaches her hands up for a book on a high shelf, and raises her hands up in praise at a church service. She stretches her hands up high like a plane's wings and whizzes down a hill so fast on her bike with her hands way up. As she grows, she lives through everyday moments of joy, love, and sadness.

And when she gets a little older, she joins together with her family and her community in a protest march, where they lift their hands up together in resistance and strength.