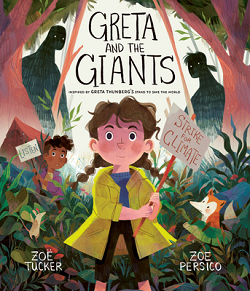 Reviewed by Deborah Menkart
Review Source: Teaching for Change
Book Author: Zoë Tucker
NOT RECOMMENDED: So, we just got another picture book in the mail about Greta Thunberg. (This is at least the 4th children's book about Greta.) Called Greta and the Giants, it implies that Greta was the first climate activist. The story is that giants are ruining the planet and the text reads: "no one told them to stop because everyone was scared of them. Everyone except Greta." When she bravely takes action, a young boy of color silently joins her. (Yep, a white girl gives birth to the climate movement and people of color follow.) In the end note, where often picture books finally say a bit more of the actual story, the false narrative continues. It says, "Climate change is the biggest crisis humans have ever faced. Greta couldn't understand why no one was doing anything about it."
Given that there are so few good books for young children about climate activism, it is all the more egregious to have books that erase the long, collective history (including leadership of people of color and Native Americans) of climate activism. We will NOT be adding this book to our list on the environment and climate change.
We should add that this review is not a reflection on Greta Thunberg. Placing activists on a pedestal and in isolation is typical of the corporate media and children's books — we have seen the same pattern with Rosa Parks, Dr. Martin Luther King, Cesar Chavez, Nelson Mandela, Wangari Maathai, and numerous others.
---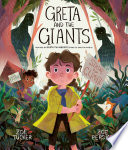 Greta and the Giants
by
Zoë Tucker
Published by
Frances Lincoln Children's Books
on November 19, 2019
Genres:
Environment
Pages:
32
Reading Level:
Grade K
,
Grades 1-2
ISBN:
9780711253773
Review Source:
Teaching for Change
Publisher's Synopsis: This inspiring picture book retells the story of Nobel Peace Prize nominee Greta Thunberg — the Swedish teenager who has led a global movement to raise awareness about the world's climate crisis — using allegory to make this important topic accessible to young children.

Greta is a little girl who lives in a beautiful forest threatened by Giants. When the Giants first came to the forest, they chopped down trees to make houses. Then they chopped down more trees and made even bigger homes. The houses grew into towns and the towns grew into cities, until now there is hardly any forest left. Greta knows she has to help the animals who live in the forest, but how? Luckily, Greta has an idea . . . A section at the back explains that, in reality, the fight against the "giants" isn't over and explains how you can help Greta in her fight.

This book has been printed sustainably in the US on 100% recycled paper. By buying a copy of this book, you are making a donation of 3% of the cover price to 350.org.