Reviewed by Edi Campbell
Review Source: Cotton Quilts
Book Author: Kelly Yang
Front Desk is based in Kelly Yang's real-life experiences, making it an #ownvoices novel. In the Author's Notes, she explains how situations in the story evolved from her growing up and helping her parents manage three hotels in California. She also provides background information on Chinese immigrants, describing both the push and pull factors that bring them to the United States. This awareness was sharpened through her training as an attorney and as a journalist.
Mia Tang, the story's protagonist, is a 5th grader when she begins working with her parents at the Calivista Motel just five miles from Disneyland. Front Desk details the family's first year managing the hotel including little daily occurrences, diversity issues and the building of community at the motel. Resilience is an underlying current in the book as Mia always seems to make a way when there is none and, resilience is also there in the positive attitude that consistently moves her forward. We should feel sorry for this young eight-year-old working girl, shouldn't we? I think Mr. Lewis, a guest at the hotel wanted to. After demanding a larger hotel room from Mia, he catches himself and asks her, "Why are you doing this? Shouldn't you be out playing?" Continue reading.
---
A discussion guide is here: Scholastic's Study Guide
---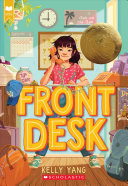 Front Desk
by
Kelly Yang
Published by
Arthur A. Levine Books/Scholastic Incorporated
on 2018
Genres:
Asian American
,
Immigration and Emigration
,
OwnVoices
Pages:
286
Reading Level:
Grades 6-8
ISBN:
9781338157826
Review Source:
Cotton Quilts
Publisher's Synopsis: Winner of the Asian / Pacific American Award for Children's Literature!

* "Many readers will recognize themselves or their neighbors in these pages." -- Kirkus Reviews, starred review

Mia Tang has a lot of secrets.

Number 1: She lives in a motel, not a big house. Every day, while her immigrant parents clean the rooms, ten-year-old Mia manages the front desk of the Calivista Motel and tends to its guests.

Number 2: Her parents hide immigrants. And if the mean motel owner, Mr. Yao, finds out they've been letting them stay in the empty rooms for free, the Tangs will be doomed.

Number 3: She wants to be a writer. But how can she when her mom thinks she should stick to math because English is not her first language?

It will take all of Mia's courage, kindness, and hard work to get through this year. Will she be able to hold on to her job, help the immigrants and guests, escape Mr. Yao, and go for her dreams?

Featuring exclusive bonus content!