Reviewed by Cierra Kaler-Jones
Review Source: Teaching for Change
Book Author: David Yoon
Although the title indicates that this might be a romance, the book covers love in not just romantic ways, but as family, friendship, protection, forgiveness, acceptance, and letting go. The true strength of the novel is that the author, David Yoon, navigates cultural differences, bias, privilege, racism, classism, and xenophobia head on without glossing over or minimizing how Frank experiences oppression. Frank Li, the main character in the story, vulnerably shares his experiences being caught between two cultural realities. Yoon, the author, draws on his own experience growing up with immigrant parents to breathe life and authenticity into Frank's character.
Growing up as the first-generation son of Korean-Americans, Frank Li's parents expect that he would only date someone who is also Korean. This expectation is evidenced and reinforced by his parents' strained relationship with Frank's older sister, who fell in love with and married a Black man. When Frank falls in love, however, the girl he dates is Brit Means — who is white. Frank does not want to be shunned like his sister, so he finds himself stuck between honoring his parents and doing what his heart tells him. When he openly grapples with and calls out his parents for their biases, they actively make derogatory and racist remarks in casual conversation with one another about Black people. Frank confronts his parents and has difficult conversations with them about the gravity of their statements and actions. The dialogue in these scenes may be helpful for readers who want to have similar conversations with family members but don't know where to start.
Frank's navigation between his two realities is best personified through his membership in two friend groups. Frank's parents have a group of friends who immigrated from Korea at the same time and they get together once a month. The children of the group have known each other since they were young and affectionately call themselves "The Limbos" because they rarely spend time together outside of these gatherings — their relationships and identities always "in limbo." He also has his group of friends at school, who have AP classes together — the "Apeys."
Enter Joy Song, who is also a member of both groups. She is in a similar situation as Frank because she is dating Wu, who is Chinese-American. Joy and Wu's relationship opens up a larger examination in the book of how xenophobia persists because Joy is afraid of revealing to her parents that she is dating someone who is not Korean. I believe there was a bit more room in the book to describe the historical tensions between Korean and Chinese people with more depth, but it piques the reader's interest enough to want to follow up with additional research to understand the full context.
Another strength of the book is the rich dialogue between characters told through the first person narrative of Frank's accounts. Frank and his best friend Q, who identifies as African-American, have a conversation about how race is a social construct. Their discussion evolves into a powerful critique of nationalism and identity in the United States, which centers whiteness. As Frank and Q navigate hyphenating their identities (Korean-American and African-American), they question why white people have the privilege of just being able to say American.
The book also discusses white liberalism, personified through Brit's parents, who are portrayed as well intentioned, but make harmful statements. For example, they put Frank in an uncomfortable situation by asking him to guide them through Korean cuisine at a restaurant when he was not quite sure what some of the food is. They say things like, "Maybe it'd be easier if you just ordered for us, Frank," which Frank follows up with an internal monologue about how easy it must be to be considered American first. He is always considered Korean first and American second. This scene demonstrates the harm caused by these  statements and ways of thinking. This also makes the reader think critically about the emotional and psychological violence of microaggressions.
Additionally, the book dives into classism. Frank and Joy's parents live in two different financial realities, which leads to misunderstandings and a cultural clash. Frank's family leaves the Song's house in a hurry after a gathering because Mr. Song had been spewing jokes about the Li family for years. The discussion of classism is further evidenced in Q's character as well. There's a scene in the book where Q and Frank are chatting as they play video games and Q discusses how other members of his family don't regard his family as being "Black enough." Yoon does a beautiful job of providing multiple examples of each of the -isms tackled in the book to provide multiple perspectives and experiences.
In sum, this book was thoughtfully written and each character played a significant role in helping the reader to understand the complexities and nuances of identity, privilege, and oppression. I would love to see this book as part of the required reading in high school for all the ways it discusses racism, classism, and xenophobia. Further, the book touches on the relatable experiences of being a high school senior, shapeshifting through multiple identity peer groups, and falling in love for the first time. This book would open up critical conversations in high school classrooms from a perspective that is too often missing from the curriculum.
---
Cierra Kaler-Jones is the Education Anew Fellow with Communities for Just Schools Fund and Teaching for Change. She is also a Ph.D. candidate at the University of Maryland, College Park studying minority and urban education.
---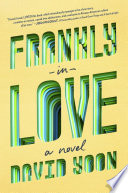 Frankly in Love
by
David Yoon
Published by
Penguin
on 2019
Genres:
Asian American
,
Family
Pages:
432
Reading Level:
High School
ISBN:
9781984812209
Review Source:
Teaching for Change
Publisher's Synopsis: "I loved, loved, LOVED this book." — Jodi Picoult, #1 New York Times bestselling author of Small Great Things and A Spark of Light

"Big-hearted, honest, hilarious, and achingly romantic." — Adam Silvera, New York Times bestselling author of They Both Die at The End

"This is a classic in the making." — Marie Lu, #1 New York Times bestselling author of Warcross

"This book is pure joy." — Deb Caletti, Printz Honor Recipient for A Heart in a Body in the World and National Book Award Finalist for Honey, Baby, Sweetheart

Two friends. One fake dating scheme. What could possibly go wrong?

Frank Li has two names. There's Frank Li, his American name. Then there's Sung-Min Li, his Korean name. No one uses his Korean name, not even his parents. Frank barely speaks any Korean. He was born and raised in Southern California.

Even so, his parents still expect him to end up with a nice Korean girl — which is a problem, since Frank is finally dating the girl of his dreams: Brit Means. Brit, who is funny and nerdy just like him. Brit, who makes him laugh like no one else. Brit . . . who is white.

As Frank falls in love for the very first time, he's forced to confront the fact that while his parents sacrificed everything to raise him in the land of opportunity, their traditional expectations don't leave a lot of room for him to be a regular American teen. Desperate to be with Brit without his parents finding out, Frank turns to family friend Joy Song, who is in a similar bind. Together, they come up with a plan to help each other and keep their parents off their backs. Frank thinks he's found the solution to all his problems, but when life throws him a curveball, he's left wondering whether he ever really knew anything about love — or himself — at all.

In this moving debut novel — featuring striking blue stained edges and beautiful original endpaper art by the author — David Yoon takes on the question of who am I? with a result that is humorous, heartfelt, and ultimately unforgettable.