Reviewed by Lettycia Terrones
Review Source: Latinos in Kid Lit
Book Author: Celia C. Pérez
There is a scene half-way through Celia C. Pérez's brilliant middle-grade novel The First Rule of Punk that pulls so powerfully at the heartstrings of all those who have ever struggled with forming their identity as a minoritized person in the U.S. Having just wrapped up the first practice session of her newly formed punk band, The Co-Co's, Malú (María Luisa O'Neill-Morales), the novel's protagonist, learns an important lesson about what it means to be "Mexican." It's a lesson that not only connects Malú to her cultural heritage in a way that is authentic, it also invites her to self-fashion an identity that encompasses all parts of her, especially her punk rock parts! The lesson comes at the hands of Mrs. Hidalgo, the mother of Joe (José Hidalgo) who is Malú's friend-in-punk, fellow seventh-grader at José Guadalupe Posada Middle School, and the guitarist of her band. And, it's a lesson that complements those imparted by the many teachers guiding Malú to incorporate the complexity of seemingly disparate parts that make up who she is.
Before leaving the Hidalgo basement, which serves as the band's practice space, Mrs. Hidalgo asks Malú to pull out a vinyl copy of Attitudes by The Brat. Putting needle to the record, Malú listens to the first bars of "Swift Moves" the EP's opening song and asks in wonder, "Who is she?" To which Mrs. Hidalgo replies, "That's Teresa Covarrubias." And, so begins a history lesson for the ages. By introducing Malú to Teresa Covarrubias, the legendary singer of The Brat—the best punk band ever to harken from East L.A. —Mrs. Hidaldo, in a true punk rock move, being that she's one herself, reclaims the cultural lineages that are so often erased and suppressed by dominant narratives, by affirming to Malú: "And they're Chicanos, Mexican Americans … Like us." (Pérez 162). Mrs. Hidalgo opens a door and illuminates for Malú something so beautiful and lucent about our culture. She designates this beauty as being uniquely part of a Chicanx experience and sensibility. So that in this moment, Malú's prior knowledge and understanding of the punk narrative expands to include her in it as a Mexican American girl. She too belongs to this lineage of Mexicanas and Chicanas that made their own rules, which as Malú will go on to learn, indeed is the first rule of punk (Pérez 310).  Continue reading.
---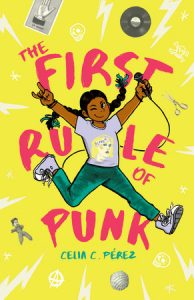 The First Rule of Punk
by
Celia C. Pérez
Published by
Penguin
on 2017
Genres:
Latinx
,
Music
,
Friendship
Pages:
336
Reading Level:
Grades 3-5
,
Grades 6-8
ISBN:
9780425290408
Review Source:
Latinx in Kid Lit
Publisher's Synopsis: From debut author and longtime zine-maker Celia C. Perez, The First Rule of Punk is a wry and heartfelt exploration of friendship, finding your place, and learning to rock out like no one's watching.

There are no shortcuts to surviving your first day at a new school--you can't fix it with duct tape like you would your Chuck Taylors. On Day One, twelve-year-old Malú (María Luisa, if you want to annoy her) inadvertently upsets Posada Middle School's queen bee, violates the school's dress code with her punk rock look, and disappoints her college-professor mom in the process. Her dad, who now lives a thousand miles away, says things will get better as long as she remembers the first rule of punk: be yourself. The real Malú loves rock music, skateboarding, zines, and Soyrizo (hold the cilantro, please). And when she assembles a group of like-minded misfits at school and starts a band, Malú finally begins to feel at home. She'll do anything to preserve this, which includes standing up to an anti-punk school administration to fight for her right to express herself!

Black and white illustrations and collage art throughout make The First Rule of Punk a perfect pick for fans of books like Roller Girl and online magazines like Rookie.