Reviewed by: Cooperative Children's Book Center
Review Source: Cooperative Children's Book Center
Book Author: Sungju Lee, Susan Elizabeth McClelland
Sungju Lee's comfortable early childhood was spent in Pyongyang, North Korea, where his father held an important position within the military. Three years after Kim Il-Sung's death in 1994, Sungju and his parents made an abrupt move to Gyeong-Seong. Although his parents called it a "vacation," it was clear that his father had lost his job and the move was punishment. Sungju witnesses poverty he never imagined in the lives of those around him, and soon experiences it in his own. After their savings run out, Sungju and his parents forage in the surrounding forest for food. Continue reading.
---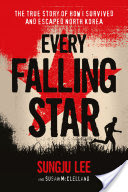 Every Falling Star
by
Sungju Lee
,
Susan Elizabeth McClelland
Published by
Abrams
on September 13th 2016
Genres:
Asian American
,
Family
,
Friendship
,
Immigration and Emigration
Pages:
344
Reading Level:
Grades 3-5
,
Grades 6-8
ISBN:
9781613123409
Review Source:
Cooperative Children's Book Center
Buy at Powell's Books
Publisher's Synopsis: Every Falling Star, the first book to portray contemporary North Korea to a young audience, is the intense memoir of a North Korean boy named Sungju who is forced at age twelve to live on the streets and fend for himself. To survive, Sungju creates a gang and lives by thieving, fighting, begging, and stealing rides on cargo trains. Sungju richly re-creates his scabrous story, depicting what it was like for a boy alone to create a new family with his gang, his "brothers�; to be hungry and to fear arrest, imprisonment, and even execution. This riveting memoir allows young readers to learn about other cultures where freedoms they take for granted do not exist.