Reviewed by Sam Bloom
Review Source: Reading While White
Book Author: Olugbemisola Rhuday-Perkovich
Rhuday-Perkovich's debut works on many levels. It's a classic school story with engaging middle school characters (though Donovan's bad guy act is a bit over-the-top). Reggie's family is supportive and the problems they face ring true.
But the volunteerism central to the story is something that we don't see as much in fiction for young people. The descriptions of the student experiences at the Center are nuanced and believable — Reggie is disturbed at first ("bleach and homeless people take funk to a whole new level"), but eventually finds his comfort zone and weaves himself into the fabric of the place to become a catalyst for positive change. Continue reading.
---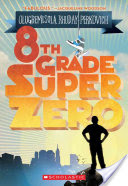 8th Grade Superzero
by
Olugbemisola Rhuday-Perkovich
Published by
Scholastic Inc.
on 2010
Genres:
Activism
,
African American
,
Humor
,
OwnVoices
,
School
,
Spirituality
,
Teen Years
Pages:
324
Reading Level:
Grades 3-5
ISBN:
9780545097253
Review Source:
Reading While White
Buy at Powell's Books
Also by this author:
Someday Is Now
SYNOPSIS: Change the world with the book Publishers Weekly called "a masterful debut"! After the worst first day back *ever*, Reggie's been nicknamed "Pukey" McKnight at his Brooklyn school. He wants to turn his image around, but he has other things on his mind as well: his father, who's out of a job; his best friends, Joe C. (who's a little too White) and Ruthie (who's a little too intense); his ex-best friend Donovan, who's now a jerk; and of course, the beautiful Mialonie. The elections for school president are coming up, but with his notorious nickname and "nothing" social status, Reggie wouldn't stand a chance, if he even had the courage to run.
Then Reggie gets involved with a local homeless shelter. Inspired by the clients there--especially Charlie, a five-year-old kid who becomes his official "Little Buddy"— he begins to think about making a difference, both in the world and at school. Pukey for President? It can happen . . . if he starts believing.