Reviewed by Maria Brescia-Weiler
Review Source:  Independent
Book Author: Nikki Tate
Down to Earth: How Kids Help Feed the World provides an overview on the types of crops and livestock one might find on a farm. The subtitle is misleading, as the book focuses more on the uses of different farm products than on the role of children in cultivating them. The book is text heavy and uses terms that make it more appropriate for upper elementary students, such as genetic diversity or government subsidization. Tate's book may also be best read in installments, with opportunities in between to discuss and digest information. Riddles, fun facts and beautiful pictures help to keep the reader engaged, but even with the help of these items, Down to Earth risks losing the attention of readers who attempt to read through the whole thing at once.
While Down to Earth contains a lot of useful information, it would be best used as a jumping off point for a more in depth study of farming and food. Because of it's wide breadth, the book fails to discuss in detail some of the more problematic aspects of farming. For instance, Tate briefly mentions that corn can be found in many surprising foods, such as gum and ketchup, but there is no mention of the problems with increased production of corn or with using corn syrup in everything. Tate also briefly describes what it means to buy organic foods, but fails to include a discussion of the importance of buying local. Similarly, she provides descriptions of what different labels on egg cartons mean but there is very little mention of factory farming. Paired with other materials that allow for a more nuanced and in depth look at these issues, Down to Earth can be a good introduction to basic aspects of farming. On it's own, the book runs the risk of portraying farming and consumption of food in a way that is romanticized and overly simplistic.
---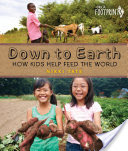 Down To Earth
by
Nikki Tate
Published by
Orca Book Publishers
on April 1st 2015
Genres:
Food
Pages:
48
Reading Level:
Grades 3-5
ISBN:
9781459804258
Review Source:
Independent
Publisher's synopsis: Kids all over the world help collect seeds, weed gardens, milk goats and herd ducks. From a balcony garden with pots of lettuce to a farm with hundreds of cows, kids can pitch in to bring the best and freshest products to their families' tables, and to market. Loaded with accessible information about the many facets of farming, Down to Earth takes a close look at everything from what an egg carton tells you to why genetic diversity matters, even to kids.