Reviewed by Deborah Menkart
Review Source: Teaching for Change
Book Author: Jacqueline Woodson
Warning: This picture book for young children does not have a happy ending. And therein is the power and beauty of the story. When a group of children ostracize a new child who is poor, they do not realize how hurtful they are being until it is too late to make amends. As the teacher talks to the children about the ripples of our actions, we as readers learn that it is up to each of us to create a happy ending in our own encounters.
Educator Enid Lee notes: "With few words and powerful images, Each Kindness addresses friendship, reaching out, rejection, dignified determination, class, growing up, teachers' wisdom, missed opportunities, and possibilities. Each Kindness speaks to your spirit and reminds you of the power of each human action."
---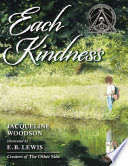 Each Kindness
by
Jacqueline Woodson
Published by
Penguin
on 2012
Genres:
Young Adult
,
Social Themes
,
Friendship
,
Values & Virtues
Pages:
32
Reading Level:
Early Childhood
,
Grade K
,
Grades 1-2
ISBN:
9780399246524
Review Source:
Teaching for Change
Also by this author:
The Day You Begin
,
The Year We Learned to Fly
Jacqueline Woodson is the 2018-2019 National Ambassador for Young People's Literature.

WINNER OF A CORETTA SCOTT KING HONOR AND THE JANE ADDAMS PEACE AWARD!

Each kindness makes the world a little better.

This unforgettable book is written and illustrated by the award-winning team that created The Other Side and the Caldecott Honor winner Coming On Home Soon. With its powerful anti-bullying message and striking art, it will resonate with readers long after they've put it down.

Chloe and her friends won't play with the new girl, Maya. Every time Maya tries to join Chloe and her friends, they reject her. Eventually Maya stops coming to school. When Chloe's teacher gives a lesson about how even small acts of kindness can change the world, Chloe is stung by the lost opportunity for friendship, and thinks about how much better it could have been if she'd shown a little kindness toward Maya.