Reviewed by Debbie Reese
Review Source: American Indians in Children's Literature
Book Author: Mary Beth Leatherdale and Lisa Charleyboy
For some time now, I've been waiting for Dreaming in Indian: Contemporary Native American Voices. Edited by Lisa Charleyboy and Mary Leatherdale, it was getting buzz in Native networks on social media.
Given my commitment to bringing the work of Native writers to the fore—especially those set in the present day—the title alone caught my interest. Seeing names of writers who would have work in Dreaming in Indian intrigued me, too.
I've read it, now, and highly recommend it.
The publisher, Annick Press, tags it as being for young adults. Dreaming in Indian has a vibrancy I've not seen in anything else. A vibrancy that, perhaps, is characteristic of a generation at ease with technology and its tools… Native writers, that is at ease with technology and its use. Continue reading.
---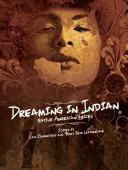 Dreaming in Indian
by
Mary Beth Leatherdale and Lisa Charleyboy
Published by
ANNICK PRESS
on March 20, 2016
Genres:
American Indians, First Nations, Metis, Inuit
Pages:
128
Reading Level:
Grades 6-8
,
High School
ISBN:
9781554516865
Review Source:
American Indians in Children's Literature
Buy at Powell's Books
Publisher's Synopsis: Anthology of art and writings from some of the most groundbreaking Native artists working in North America today. Emerging and established Native artists, including acclaimed author Joseph Boyden, renowned visual artist Bunky Echo Hawk, and stand-up comedian Ryan McMahon, contribute thoughtful and heartfelt pieces on their experiences growing up Indigenous, expressing them through such mediums as art, food, the written word, sport, dance, and fashion. Renowned chef Aaron Bear Robe explains how he introduces restaurant customers to his culture by reinventing traditional dishes. And in a dramatic photo spread, model Ashley Callingbull and photographer Thosh Collins reappropriate the trend of wearing 'Native' clothing. Whether addressing the effects of residential schools, calling out bullies through personal manifestos, or simply citing hopes for the future, Dreaming In Indian refuses to shy away from difficult topics.