Reviewed by Edi Campbell
Review Source: Cotton Quilts
Book Author: Adib Khorram
Darius Kellner is a high school sophomore in Portland. He comes from a tight-knit family, but doesn't have a particularly close relationship with his father. Darius' hobbies include brewing tea and all things Star Trek. And, he has depression. When his family receives news that his maternal grandfather is dying, they make the decision to go to Iran to see him one last time. It's been years since Darius' mother has returned home and her husband (he's European American) and children have never been there. Darius is somewhat anxious about this trip, about having to talk to be people he should know quite well, but doesn't. In fact, he's anxious about talking in general because unlike his younger sister, he doesn't speak Farsi. While in Yazd, Darius actually makes a friend and this changes everything for him. Continue reading.
---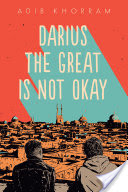 Darius the Great Is Not Okay
by
Adib Khorram
Published by
Penguin
on August 28, 2018
Genres:
Disabilities
,
Family
,
Friendship
Pages:
300
Reading Level:
Grades 6-8
,
High School
ISBN:
9780525552987
Review Source:
Cotton Quilts
Publisher's Synopsis: Darius doesn't think he'll ever be enough, in America or in Iran. Hilarious and heartbreaking, this unforgettable debut introduces a brilliant new voice in contemporary YA.

"Heartfelt, tender, and so utterly real. I'd live in this book forever if I could." —Becky Albertalli, award-winning author of Simon vs. the Homo Sapiens Agenda

Darius Kellner speaks better Klingon than Farsi, and he knows more about Hobbit social cues than Persian ones. He's a Fractional Persian—half, his mom's side—and his first-ever trip to Iran is about to change his life. Darius has never really fit in at home, and he's sure things are going to be the same in Iran. His clinical depression doesn't exactly help matters, and trying to explain his medication to his grandparents only makes things harder. Then Darius meets Sohrab, the boy next door, and everything changes. Soon, they're spending their days together, playing soccer, eating faludeh, and talking for hours on a secret rooftop overlooking the city's skyline. Sohrab calls him Darioush—the original Persian version of his name—and Darius has never felt more like himself than he does now that he's Darioush to Sohrab. Adib Khorram's brilliant debut is for anyone who's ever felt not good enough—then met a friend who makes them feel so much better than okay.