Review Author Sujei Lugo
Review Source: Latinos in Kid Lit
Book Author: Laura Lacámara
DESCRIPTION FROM THE BOOK: A Cuban girl transforms her long and unruly hair into a garden.
MY TWO CENTS: In this bilingual picture book, with a Spanish translation by Gabriela Baeza Ventura, Laura Lacámara brings us a whimsical Caribbean tale of a young Cuban girl and her luxuriant hair. Lacámara's colorful illustrations express the joyful spirit of the main character and transport us to the sunny, tropical Caribbean.
The story introduces us to Dalia, a young girl who one day wakes up and finds out that her hair has grown straight up and as tall as a Cuban royal palm tree. Many children would panic with such news, but Dalia can't hold the excitement of her new wondrous hair. She then embarks on a journey to add to her hair different natural elements of a Caribbean tropical island, such as wild tamarind, coontie plant, and violet leaves. Her purpose is to show her mother the different types of "trees" she can recreate using her hair, ending with a beautiful and unique one.
What stands out in this picture book is Lacámara's ability to portray through her paintings the endearing relationship between Dalia and her mother and their lives in harmony with nature. The expressions on their faces capture the happiness and warmth of a loving mother and daughter bond. Other characters in the book, Señora Dominguez, Señora Soledad and Soledad's daughters, all play supporting roles to Dalia's "hairy" journey and to their connection to the natural world. Through this all-women set of characters, we see a growing sense of community and a sympathetic portrayal of peculiar characters we can encounter in a rural neighborhood.
By situating their home in rural Cuba, the author incorporates the Caribbean's particular flora and fauna into the story. Through beautiful landscapes that fill the book with a graphical sense of the fresh air and natural environment of this tropical island, the book introduces young readers to different components of the natural world: royal palms, sugar cane fields, wild tamarinds, moonflowers, coontie plants, wild violets, caterpillars, birds, fireflies, ponds, and the ocean. Even the characters' clothing are filled with flowers and leaf patterns, giving us powerful images that convey a reverence to the natural world. Continue reading.
---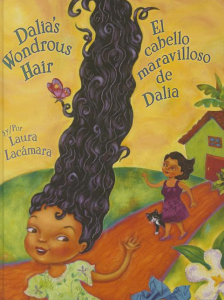 Dalia's Wondrous Hair (El Cabello Maravilloso de Dalia) [eBook - NC Kids Digital Library]
by
Laura Lacámara
Published by
Arte Publico Press
on 2017
Genres:
Bilingual
,
Latinx
Reading Level:
Grade K
,
Grades 1-2
,
Grades 3-5
ISBN:
9781518504617
Review Source:
Latinx in Kid Lit
Publisher's Synopsis: One night, while Dalia slept safely wrapped in her mother's cool silken sheets, her hair grew and grew. By the time the rooster crowed, her hair had "grown straight up to the sky, tall and thick as a Cuban royal palm tree." Her mother was amazed, and wondered what her daughter would do with her wondrous hair. As Dalia looked at the flowers blooming in the garden, an idea sprouted inside her. She decorated her hair with leaves from the forest and mud from the marsh. Her mother was puzzled and could not imagine what she was. "Are you a leaf-crusted mud-tree?" she guessed incorrectly. That night, while Dalia slept safely cocooned in her mama's sheets, something stirred and unfolded. When the rooster crowed, the girl ran outside and everyone watched in awe as she carefully unwrapped her towering hair. Could it be? Is Dalia a . . . blossoming butterfly tree?!? In this whimsical bilingual picture book, Dalia's hair becomes a magical force of nature, a life-giving cocoon. Author and illustrator Laura Lacámara once again delights children ages 4-9 with her vibrant illustrations and an imaginative story about a girl's fanciful encounters with nature. Bonus features include a guide for how to create your own butterfly garden at home, as well as a bilingual glossary of select plant and animal species native to the island of Cuba.