Reviewed by Donald Yacovone, PhD
Review Source: ReVista – Harvard Review of Latin America
Book Author: Roald Dahl
Roald Dahl, the Caribbean, and a Warning from His Chocolate Factory
People in the United States love chocolate, but history — not so much. For generations, we manufactured blatantly racist textbooks that taught young readers about the inferiority of African Americans. Since the 1980s, if not earlier, public schools began dropping history from their curriculums or assigned athletic coaches the task of teaching such classes. But history is far from a dead thing. "We carry it within us," African American novelist James Baldwin memorably remarked in his essay, "The White Man's Guilt." We "are unconsciously controlled by it in many ways, and history is literally present in all that we do. It could scarcely be otherwise, since it is to history that we owe our frames of reference, our identities, and our aspirations."
Chocolate also has a history and, despite its sweetness to many Americans, it has a bitter legacy. Like sugar, it became the business of colonial — and slave trade — powers, and Great Britain, since the mid-17th century, sought to be in the thick of it. As British literature professor Kate Loveman wrote in Journal of Social History in 2013, the Earl of Sandwich tried to entice the English government into cultivating new harvests, including cacao, in the West Indies, and especially Jamaica. While initial English efforts to produce Jamaican cacao — highly prized today — proved successful, exporting "quite large quantities," as one imperial historian wrote, the crop soon fell victim to hurricanes and disease and competition from sugar as the more profitable (slave-produced) investment.
The very idea of chocolate is inextricably linked to slavery. Indeed, as early as the 1850s, U.S. abolitionists had protested the cocoa trade, and the cotton trade, pledging themselves to buy only free-labor products. In this way, the antislavery newspaper the National Era wrote in 1856, "the sweet may be obtained without the bitter."
The first cocoa shipments to Europe began in 1585 and ever since the commodity has been identified with the colonial world of Central America and the Caribbean, but especially with West Africa.  World's cocoa production shifted to West Africa (about 70% today), specifically because of Britain's interests there, especially Cadbury, the famed British chocolatier.  Yet, as Jill Lane wrote in her 2007 essay "Becoming Chocolate, A Tale of Racial Translation," the industry there offers an important warning for Caribbean nations.  African cocoa production remains "fraught with social problems, including child and slave labor. . . ."  Today, millions of West African children, especially in Ghana and Cote d'Ivoire, are caught up in the cocoa trade. Many survive "on little food, little or no pay, and endure regular beatings." By one estimate, roughly half of the world's chocolate comes from the labor of exploited children. Continue reading.
---
Another essay by Dr. Donald Yacovone can be found here: Innocence Betrayed – Charlie and the Chocolate Factory and the Deep Roots of White Supremacy
---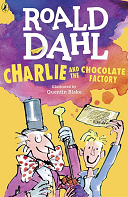 Charlie and the Chocolate Factory
by
Roald Dahl
Published by
Penguin Random House Children's UK
on June 3, 2010
Pages:
208
Reading Level:
Grades 3-5
ISBN:
9780141960616
Review Source:
ReVista - Harvard Review of Latin America
Publisher's Synopsis: "The ultimate children's story." - David Walliams

"Greetings to you, the lucky finder of this Gold Ticket from Mr Willy Wonka! I shake you warmly by the hand! Tremendous things are in store for you!"

One miraculous moment changes Charlie Bucket's life forever.
A boy who only gets to eat cabbage soup for breakfast, lunch and dinner finds a Golden Ticket that will take him into Willy Wonka's magical chocolate factory.
Joining him on the tour are four horrible blighters:
Augustus Gloop - a great big greedy nincompoop, Veruca Salt - a spoiled brat, Violet Beauregarde - a repulsive little gum-chewer and Mike Teavee - a TV addict.
With a chocolate river, crafty squirrels and mysterious Oompa Loompas, Mr Wonka's chocolate factory is the strangest, most magnificent place Charlie has ever seen.
What other surprises are in store for the lucky ticket winners?

Roald Dahl's bone chilling classic The Witches is soon to be a major motion picture, starring Anne Hathaway.