Review Source: Rethinking Schools
Book Author: Josh MacPhee
It's easy to lose oneself in this rich collection of more than 100 posters edited by Justseeds Artists' Cooperative member Josh MacPhee. The beautiful posters, representing a range of artists and events in U.S. and world history, were originally posted in public spaces to counter the "endless barrage of brightly colored advertisements and commercial window displays."
The 2010 edition included events such as the AIM occupation of Alcatraz, the Anti-Apartheid struggle, the Pueblo Revolt, Sacco and Vanzetti, the Battle of Blair Mountain, the Korean Peasants League, ACT UP Philadelphia, and dozens more. This 2020 second edition adds posters about "recent struggles around Arab Spring, Black Lives Matter, Idle No More, current immigration rights organizing, and more." Many of the posters are also available at the Just Seeds website ( Just Seeds – Celebrate People's History Poster Series).
---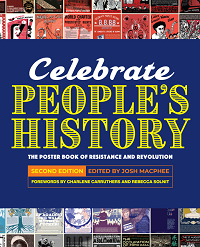 Celebrate People's History!
by
Josh MacPhee
Published by
The Feminist Press at CUNY
on November 9, 2010
Genres:
Activism
,
Art
Pages:
256
Reading Level:
High School
ISBN:
9781558616783
Review Source:
Rethinking Schools
Publisher's Synopsis: The best way to learn history is to visualize it!

Since 1998, Josh MacPhee has commissioned and produced over one hundred posters by over eighty artists that pay tribute to revolution, racial justice, women's rights, queer liberation, labor struggles, and creative activism and organizing. Celebrate People's History! presents these essential moments — acts of resistance and great events in an often hidden history of human and civil rights struggles — as a visual tour through decades and across continents, from the perspective of some of the most interesting and socially engaged artists working today.

Celebrate People's History includes artwork by Cristy Road, Swoon, Nicole Schulman, Christopher Cardinale, Sabrina Jones, Eric Drooker, Klutch, Carrie Moyer, Laura Whitehorn, Dan Berger, Ricardo Levins Morales, Chris Stain, and more.