Reviewed by Kimberly Ellis
Review Source: Teaching for Change
Book Author: Junauda Petrus
As Ruth Wilson Gilmore reminds us, "Abolition is not absence; it is presence. What the world will become already exists in fragments and pieces, experiments and possibilities." Can We Please Give the Police Department to the Grandmothers?,  written by Junauda Petrus and illustrated by Kristen Uroda, is just that: an experiment focused on presence; a possibility of what the world could look and feel like if safety was a responsibility held by community, particularly nurtured by grandmothers.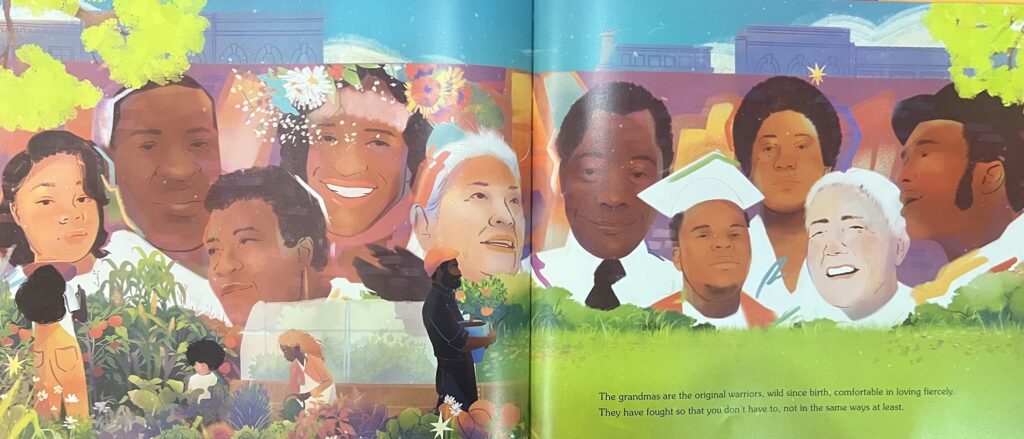 A practice of freedom dreaming, Petrus and Uroda's book — which is based on a poem of the same name by the author — asks readers to participate in a radical envisioning of a new world where loving grandmothers supplant police departments as communities navigate keeping one another safe and meeting each others' needs. In this world, children expect love because grandmas provide "love temples with spaces to meditate and eat delicious food," help with homework, and offer compassion when children "are wildin' out because [their] heart is broke or [they] don't have what [they] need." Communities rely on one another to ensure they are safe, protected, and ultimately, free.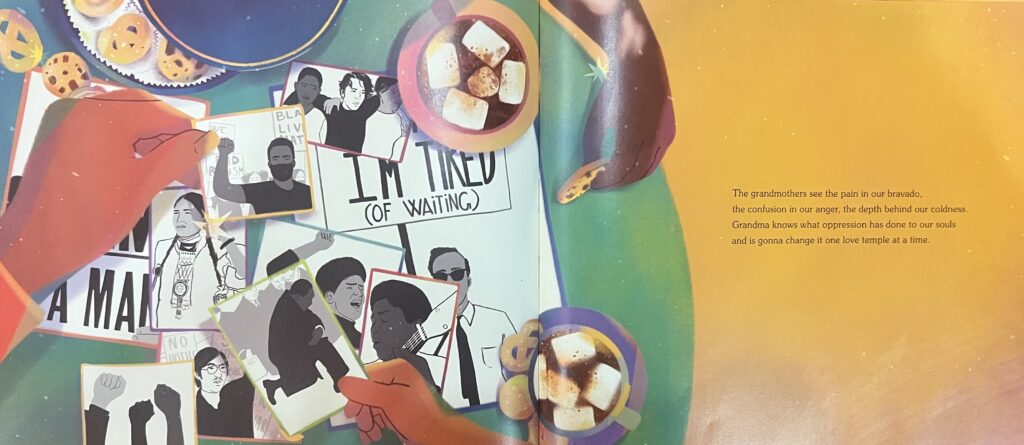 Can We Please Give the Police Department to the Grandmothers? is a beautiful entry for young readers in particular into the world of abolition. Bright and dynamic illustrations coupled with lyrical prose will engage readers and provide a foray into many rich conversations, including community safety, wellbeing, mutual aid, intergenerational relationships, and radical dreaming.
Kimberly Ellis is an Education Anew Fellow with Teaching for Change and Communities for Just Schools Fund. Read her stories over on the D.C. Area Educators for Social Justice website, a project of Teaching for Change.
---

Can We Please Give the Police Department to the Grandmothers?
by
Junauda Petrus
Published by
Penguin
on April 4, 2023
Genres:
Grandparents and Elders
,
Policing
Pages:
32
Reading Level:
Grade K
,
Grades 1-2
ISBN:
9780593462348
Review Source:
Teaching for Change
Publisher's Synopsis: Based on the viral poem by Coretta Scott King honoree Junauda Petrus, this picture book debut imagines a radically positive future where police aren't in charge of public safety and community well-being.

Petrus first published and performed this poem after the shooting of Michael Brown in Ferguson, Missouri, in 2014. With every subsequent police shooting, it has taken on new urgency, culminating in the 2020 murder of George Floyd by a Minneapolis police officer, blocks from Junauda's home.

In its picture book incarnation, Can We Please Give the Police Department to the Grandmothers? is a joyously radical vision of community-based safety and mutual aid. It is optimistic, provocative, and ultimately centered in fierce love. Debut picture book artist Kristen Uroda has turned Junauda's vision for a city without precincts into a vibrant and flourishing urban landscape filled with wise and loving grandmothers of all sorts.