Reviewed by Beverly Slapin
Review Source: De Colores: The Raza Experience in Books for Children
Book Author: Maya Christina Gonzalez
Using watercolor, ink and pencil on a gorgeous, vibrant palette of mostly pinks, oranges, blues and greens, González constructs double-page spreads full of magical realism. In this inviting scenario, there are children and trees, in some places leaning into each other; in some places, so close they actually enjoin. The clouds are pink cotton-candy puffs, the roots are curlicues, and different patterns of leaves and bark imply different species as the children's faces imply varying ethnicities.
It's not much of a stretch to imagine the children as the trees and the trees as the children; rather, they are a part of each other, hair/ leaves blowing in the wind, little feet reaching down into the earth to join with the roots, arms/ branches open wide to take in new experiences; at one with each other and the world. For children, Call Me Tree/ Llámame árbol is about knowing who you are and your place in the world; for adults, it's about appreciating children for the amazing little beings they are. Continue reading.
---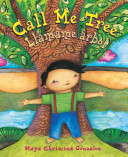 Call Me Tree
by
Maya Christina Gonzalez
on 2014
Genres:
Bilingual
,
Latinx
,
Nature
Pages:
24
Reading Level:
Grades 1-2
,
Grades 3-5
ISBN:
9780892392940
Review Source:
De Colores: The Raza Experience in Books for Children
Buy at Powell's Books
Publisher's Synopsis: In this spare, lyrically written story, we join a child on a journey of self-discovery. Finding a way to grow from the inside out, just like a tree, the child develops as an individual comfortable in the natural world and in relationships with others. The child begins "Within/ The deep dark earth," like a seed, ready to grow and then dream and reach out to the world. Soon the child discovers birds and the sky and other children: "Trees and trees/ Just like me!" Each is different too. The child embraces them all because "All trees have roots/ All trees belong." Maya Christina Gonzalez once again combines her talents as an artist and a storyteller to craft a gentle, empowering story about belonging, connecting with nature, and becoming your fullest self. Young readers will be inspired to dream and reach, reach and dream . . . and to be as free and unique as trees.