Reviewed by LaTissia Mitchell
Review Source: Teaching for Change
Book Author: Elisabeth Combres
Without sacrificing the horrors of the genocide of the Tutsi in Rwanda, Broken Memory surprises by virtue of its affecting subtlety. It tells the story of the child survivor Emma who attempts to piece together her fragmentary memories about the death of her mother.
The novel opens with the home invasion and murder of Emma's mother at the hands of a roving band of Hutu assassins. In the years that follow Emma struggles to come back into the world and rebuild her life. Encountering another young survivor allows Emma to find a renewed sense of purpose.
Writer Élisabeth Combres, a long-time reporter, draws from interviews she conducted with Rwandan child survivors, which lends the novel an authentic voice. But it is Combres' deft touch that allows the novel to stay with you.
By respecting the reader's ability to appreciate a clear-eyed and responsible story about survival, Broken Memory succeeds because it moves past sensationalism to a meditation on living with the memory of unspeakable acts. Young readers will connect with this story of survival because it offers both and hope and realism.
---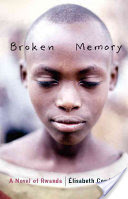 Broken Memory
by
Elisabeth Combres
Published by
Groundwood Books Ltd
on April 1st 2011
Genres:
Genocide
,
Health
Pages:
139
ISBN:
9780888998934
Review Source:
Teaching for Change
Buy at Powell's Books
SYNOPSIS: After hearing her mother being murdered, a young girl must find the strength to survive on her own amidst the massacres of the 1994 genocide in Rwanda.