Reviewed by Deborah Thomas
Review Source: Teaching for Change
Book Author: Destiney Mayhew, Aderemi Abosede, Kairon Cunningham
Out of Breath: Kendra's Big Secret by teen authors and Washington D.C. high school students, Destiney Mayhew, Aderemi Abosede, and Kairon Cunningham is a fun read with very serious elements about public health, trust, and communication.
Kendra Kangaroo has a secret: she has asthma. At school, Kendra's hockey teammates blame her for their team's losses. They make fun of her, talking about her physical appearance and how she's the worst player on the team. Kendra worries if she tells them about her asthma she will be kicked off the team. She shares her feelings with her best friend, Rahim Rabbit. Rahim tries to convince her to talk to her teammates. She thinks about this but believes there is no way they will let her play.
Kendra goes to practice, determined to work harder. After practice coach Bear calls Kendra into his office. He tells Kendra he believes she can be Team Reach's first kangaroo hockey star, but he is concerned for her. "You need to tell your teammates about your asthma," he says. Again, Kendra declines because she thinks they will see her as less of an animal because of a condition she can't control.
On the day of the big game, there is tension in the air. Kendra, can already feel the tightness in her chest but she is determined to do her best. By the end of the second period the score is tied and the pace and excitement of the game is beginning to take a physical toll on Kendra. Just as she is about to score a goal, she begins gasping for air; her secret is out. The coach takes her off the ice and gets her inhaler. Expecting the worst, Kendra is surprised to hear someone shout "Let's do this for Kendra!" Everyone begins to shout and play ferociously for their fallen teammate. In the end, Team Reach wins the game. Back in the locker room, amidst all the excitement, Kendra's teammates talk about the unfair comments they made and about how they misjudged her. In the end, China Cheetah says "we care more about our teammates than winning the game."
This is a wonderful story with a crazy cast of characters that emphasizes the importance of healthy self-esteem, and not putting yourself at risk out of fear of what others may say. This book fills a gap by addressing the topic of asthma, which has a higher prevalence in low-income communities and among children of color. The authors recognize that children are often ashamed of health conditions and by writing this story, they encourage children not to shy away from talking about their own health conditions. Readers can learn that you shouldn't assume or judge the words or actions of others.
Shout Mouse Press is a nonprofit writing program and publishing house that provides writing workshops and publishes stories by D.C. youth. Learn more. 
---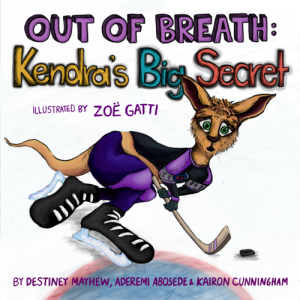 Out of Breath: Kendra's Big Secret
by
Destiney Mayhew
,
Aderemi Abosede
,
Kairon Cunningham
Illustrator:
Zoë Gatti
Genres:
Bullying
,
OwnVoices
,
School
Pages:
36
Reading Level:
Grades 3-5
ISBN:
781945434020
Review Source:
Teaching for Change
Also by this author:
Taking Down Ms. Moody
Kendra the Kangaroo is getting ready for her hockey team's big game against their rival. The only problem? Her team doesn't think that kangaroos belong in hockey. And even worse, Kendra is afraid they'll kick her off the team if they find out that she has asthma. So she keeps a big secret, and tries to prove that she belongs on the ice. Can her friend Rahim the Rabbit convince her to be herself and tell the truth before she puts herself in danger?