Reviewed by May Kotsen
Review Source: Teaching for Change
Book Author: Michelle Coles
Set in 2015, Black Was the Ink follows the life of Malcolm Williams, a 16-year-old from Washington D.C., who just wants to spend his summer drawing, playing video games, and playing pickup with his friends. After violence Malcolm experiences in D.C. mirrors the police violence that killed his dad when Malcolm was just a kid, Malcolm's mom ships him to Natchez, Mississippi, to live with his late dad's family on their farm, much to Malcolm's displeasure. Resistant to chores around the farm, an isolated lifestyle, and the lack of Wi-Fi, Malcolm soon finds himself intimately intertwined with the farm his ancestors grew up on. Living with his great aunt and great uncle, Malcolm is soon joined by his uncle Corey, who is just released from prison after a 16 year sentence for marijuana possession.
At the annual family picnic, Malcolm's aunt Carol lets the family know that it will be their last, as the state is going to take away the rest of their land to complete a highway (much of their land had already been taken away decades earlier for the same reason). Seemingly unbothered in the moment, Malcolm soon learns why he should care from an unlikely figure: the ghost of his great great grandfather, Cedric Johnson. 
Through Cedric's diary, Malcolm is transported to live as Cedric in the post-Civil War period he would come to learn is called Reconstruction. Not only does Malcolm have to deal with the physical act of time traveling, he also has to deal with the responsibility of being in the body of Cedric, a man that Malcolm knows little about other than the fact that he is buried in the family graveyard and is insistent that Malcolm must save the farm. Malcolm has to adapt to the 1860s quickly, learning not only what his go-to drink order is (a ginger ale with a sugar cube) but also what was going on in D.C. at the time. Stunned by what he thought was impossible, Malcolm soon finds himself working as an aid for various Black congressmen, causing him to question everything he learned in school. Working with the first Black senator, Hiram Revels, along with other powerhouse Black politicians such as Representative Robert Smalls, Malcolm finds himself in the midst of revolutionary changes such as the adoption of the 14th and 15th Amendments, as well as the Civil Rights Act of 1875. 
Malcolm finds himself trapped in a duality, not only between living in the late 19th century and 2015 simultaneously, but also between seeing massive progress and hope in the 1860s and then seeing the lingering effect of its reversal 150 years later. On one hand, Malcolm is inspired and motivated by the concrete changes he and other Black politicians and white Radical Republicans are able to enact. On the other hand, Malcolm knows what life is like in the present. He knows that his father was murdered by the police because of "mistaken identity." He knows that his uncle was imprisoned for 16 years for something his white friends got a slap on the wrist for. It is through confronting these discrepancies that exist between the past and the present that Malcolm realizes how truly special his family's land is. Through the help of Jasmine (the girl he likes who lives nearby), her father (a history professor at the local HBCU), and, to his surprise, the help of a white ally, Malcolm is able to change the future of his family through what Cedric was able to show him of the past. 
Black Was the Ink is a story which gives hope through illuminating a time period that has been actively silenced. Demonstrating how relevant Reconstruction is to the present, readers will find themselves in similar shoes to Malcolm, both shocked by histories they have never read about in school and confronting the discrepancies which exist between policies of the past and the present. Towards the end of the book, Malcolm's uncle calls him in surprise when he sees that Malcolm has left a voter registration card from the 1860s on his pillow. Malcolm responds saying, "Man, I just remembered you saying no one in our family ever had a say in how this country was run. I wanted to give you proof that even if your dad and grandfather couldn't vote for most of their lives, your great-grandfather did, so don't give up. Our story's not done yet." In times like today where change can feel hopeless, author Michelle Coles gives hope to readers that through understanding the revolutionary strides people were able to make in the past, great change is still possible today.  
Read more about the book in a teachers' guide by the author.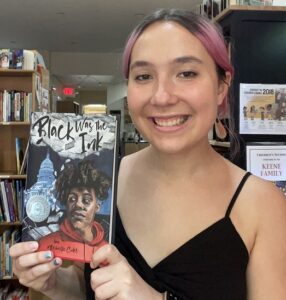 May Kotsen is an intern with Teaching for Change in summer 2022. She is a rising senior at Connecticut College, where she is majoring in History, minoring in American Studies, completing a Museum Studies Certificate, and is a  Program in Community Action (PICA) Scholar. 
---

Black was the Ink
by
Michelle Coles
Published by
Lee & Low Books
on 2021
Genres:
Reconstruction
,
Young Adult
,
Banned Books
Pages:
356
Reading Level:
High School
ISBN:
9781643794310
Review Source:
Teaching for Change
Publisher's Synopsis: Through the help of a ghostly ancestor, sixteen-year-old Malcolm is sent on a journey through Reconstruction-era America to find his place in modern-day Black progress.

Forgotten heroes still leave their mark.

Malcolm Williams hasn't been okay for a while. He's angry and despondent and feels like nothing good ever happens for teens like him in D.C. All he wants is to be left alone in his room for the summer to draw or play video games — but no such luck. With growing violence in his neighborhood, his mother ships him off to his father's family farm in Mississippi, and Malcolm is anything but pleased.

A few days after his arrival, his great-aunt tells him that the State is acquiring the farm to widen a highway. It's not news Malcolm is concerned about, but someone plans to make it his concern. One minute Malcolm is drawing in the farmhouse attic, and the next he's looking through the eyes of his ancestor Cedric Johnson in 1866.
As Cedric, Malcolm meets the real-life Black statesmen who fought for change during the Reconstruction era: Hiram Revels, Robert Smalls, and other leaders who made American history. But even after witnessing their bravery, Malcolm's faith in his own future remains shaky, particularly since he knows that the gains these statesmen made were almost immediately stripped away. If those great men couldn't completely succeed, why should he try?

Malcolm must decide which path to take. Can Cedric's experiences help him construct a better future? Or will he resign himself to resentments and defeat?
Perfect for fans of Jason Reynolds and Nic Stone, and featuring illustrations by upcoming artist, Justin Johnson, Black Was the Ink is a powerful coming-of-age story and an eye-opening exploration of an era that defined modern America.