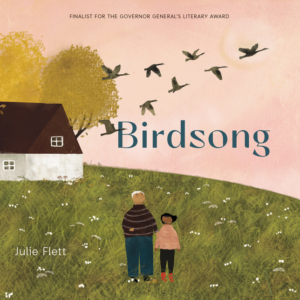 Reviewed by Debbie Reese
Reviewed Source: American Indians in Children's Literature
Book Author: Julie Flett
Add Julie Flett's Birdsong to your shelves! It is on several Best Books of 2019 lists and it got starred reviews from the major review journals.
Most of the reviews note Flett's artistic style and the seasonal arrangement of the story. Most note the growth of Katherena as she and her mom leave their home in the city, to a new one in the country where they meet an older woman named Agnes. And most reviewers note the Cree words in the book. It is great to see the reviews and the stars and the book being listed on year-end lists.
Now. . . what do I see, as I read Birdsong?
Well — this page in particular, caught my eye: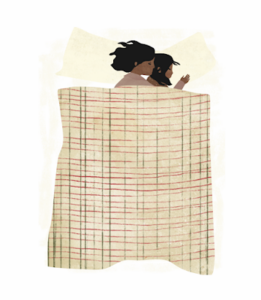 There, you see Katherena and her mom, together, beneath warm covers. I absolutely adore that page! When my daughter was little (well, to be honest, this happens even today), there were many times when we'd snuggle under the warm covers and she'd press her cold feet to my warmth, and squeal "icicles!" just before she did it. Such a fond memory, of warmth and of those cold feet, too! Continue reading.
---

Birdsong
by
Julie Flett
on 2019
Genres:
American Indians First Nations Metis Inuit
Pages:
48
Reading Level:
Grade K
,
Grades 1-2
ISBN:
9781771644730
Review Source:
American Indians in Children's Literature
Publisher's Synopsis: A touching and thoughtful gift for the art lovers in your life.

When Katherena and her mother move to a small town, Katherena feels lonely and out of place. But when she meets an elderly woman artist who lives next door, named Agnes — her world starts to change. Katherena and Agnes share the same passions for arts and crafts, birds, and nature. But as the seasons change, can Katherna navigate the failing health of her new friend?

Award-winning author and artist Julie Flett's textured images of birds, flowers, art, and landscapes bring vibrancy and warmth to this powerful story, which highlights the fulfillment of intergenerational relationships, shared passions, and spending time outdoors with the ones we love.

Includes a glossary and pronunciation guide to Cree words that appear in the text.

"Cree-Métis author/illustrator Julie Flett's smooth and lyrical words and gorgeous... images truly capture the warmth and solidarity of the female protagonists in this tender intergenerational friendship story." — The Horn Book

"Cycling from spring to spring, [Julie Flett's] subtle, sensitive story delicately traces filaments of growth and loss through intergenerational friendship, art making, and changing moons and seasons." — Publishers Weekly (starred review)