Reviewed by Edith Campbell
Review Source: Cotton Quilts
Book Author: Andrea Davis Pinkney
Bird in a Box is a story set in 1936 during the Great Depression. Otis, Hibernia, and Willie each tell their stories in alternating chapters.
Hibernia likes singing just as her mother did. Her mother followed her passion and left Hernia and her father years ago.
Willie and Otis meet in an orphanage where they quickly become friends. Each child has a past to which they cling and each looks forward to Joe Louis winning his next fight. Louis provides an interesting backdrop to the story but his importance never fully comes to light.
The story has an energy and an excitement that doesn't take the time to develop either details or characters. Why is this young middle-class girl whose father has a car going out to pick up rations with her wagon in all kinds of weather, and was she really pressing her own hair? I even found myself at one point wondering what was motivating me to continue reading. Continue reading.
---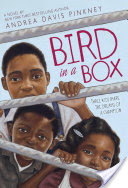 Bird in a Box
by
Andrea Davis Pinkney
Illustrator:
Sean Qualls
on April 12th 2011
Genres:
African American
,
Family
,
Friendship
,
Sports
Pages:
288
Reading Level:
Grades 3-5
ISBN:
9780316084055
Review Source:
Cotton Quilts
SYNOPSIS: Otis, Willie, and Hibernia are three children with a lot in common: they've all lost a loved one, they each have secret dreams, and they won't stop fighting for what they want. And they're also a lot like their hero, famed boxer Joe Louis. Throughout this moving novel, their lives gradually converge to form friendship, family, and love. Their trials and triumphs echo those of Joe Louis, as he fights to become the heavyweight boxing champion.
Andrea Pinkney masterfully weaves in factual information about Joe Louis and actual radio commentary from his fights, enriching the narrative of this uniquely rendered and beautifully written novel.