Reviewed by Breeanna Elliott
Review Source: Africa Access
Book Author: Katie Smith Milway
Although the value of collaborative play to overcome conflict is highlighted throughout the book, The Banana-Leaf Ball may reinforce the stereotype of Africa as overwhelmed by unexplained warfare and riddled with refugee camps.
The story begins when the protagonist, Deo Rukundo, suddenly has to flee his family home "one dark night" and loses his family in the forest until a fisherman finds him, "just skin and bones," and brings him to Lukole, a refugee camp in northwest Tanzania. While at the camp alone without his family, Deo struggles to avoid conflict with other boys who fight and steal to survive during periods of food and resource scarcity. Remembering his pre-war love of soccer, he decides to make a soccer ball out of banana leaves and twine, like he used to when he was with his family. However, one of the leaders of the boy gang, Remy, bullies him and steals his twine. Continue reading.
---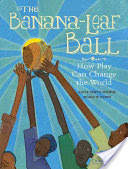 Banana-Leaf Ball, The
by
Katie Smith Milway
Published by
Kids Can Press Ltd
on April 4th 2017
Genres:
Africa
,
Sports
Pages:
32
Reading Level:
Grades 3-5
ISBN:
9781771383318
Review Source:
Africa Access
Separated from his family when they were forced to flee their home, a young East African boy named Deo lives alone in the Lukole refugee camp in Tanzania. With scarce resources, bullies have formed gangs to steal what they can, and one leader named Remy has begun targeting Deo. But when a coach organizes the children to play soccer, everything begins to change for Deo. And for Remy. By sharing the joy of play, ñno one feels so alone anymore.î Readers everywhere will be inspired to read how play can change lives.