Reviewed by Jean Mendoza
Review Source: American Indians in Children's Literature
Book Author: Dawn Quigley
Two Native high school girls, two unique stories about not fitting in, and about trying to make sense of Indigenous heritage/ancestry when something has disrupted their place in a Native community….
Most regular readers of this blog won't need to be convinced that it takes more than one story about a group of people to adequately portray that group's experience. Still, we know that in classrooms and in library collections across North America, the pickings are usually slim when it comes to books by and about Native people. So "the danger of a single story" Chimamanda Ngozi Adichie warns about is very real.
Right now I'm revisiting that point — yet again — via two recently published books with contemporary Native teen girl protagonists. Dawn Quigley's (Turtle Mountain Chippewa) debut novel Apple in the Middle (2018) is set in Minnesota and the Turtle Mountain Chippewa reservation in North Dakota. The protagonist, Apple, meets her Native family members for the first time, the summer after her sophomore year in high school. Continue reading.
---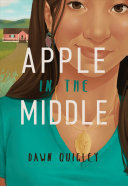 Apple in the Middle
by
Dawn Quigley
Published by
North Dakota State University Press
on August 2, 2018
Genres:
American Indians First Nations Metis Inuit
Pages:
264
Reading Level:
Grades 6-8
ISBN:
9781946163073
Review Source:
American Indians in Children's Literature
Publisher's Synopsis: Apple Starkington turned her back on her Native American heritage the moment she was called a prairie nigger-a racial slur for someone of white and Indian descendance-not that she really even knows how to be an Indian in the first place. Too bad the white world doesn't accept her either. After her wealthy father gives her the boot one summer, Apple reluctantly agrees to visit her Native American relatives on the Turtle Mountain (North Dakota) Indian Reservation for the first time. It should have been easy, except that she makes all kinds of mistakes as she deals with the culture shock of Indian customs and the Native Michif language, while trying to find a connection to her dead mother. She also has to deal with a vengeful Indian man, Karl, who has a violent, granite-sized chip on his shoulder because he loved her mother in high school but now hates Apple because her mom married a white man. As Apple meets her Indian relatives this summer, she finds that she just may have found a place to belong. One by one, each character-ranging from age five to eighty-five-teaches her, through wit and wisdom, what it means to be a Native person, but also to be a human being while finding her place in the world. Apple shatters Indian stereotypes and learns what it means to find her place in a world divided by color.