Reviewed by: Lyn Miller-Lachmann
Review Source: The Pirate Tree
Book Author: Supriya Kelkar
During and immediately after the Second World War, India fought its own war for independence against Great Britain. Led by Mahatma Gandhi, this independence movement embraced civil disobedience and other forms of nonviolent resistance according to the principle of ahimsa. Supriya Kelkar's great-grandmother was a follower of Gandhi and a participant in the independence struggle, and Ahimsa, Kelkar's debut novel for middle grade readers, published by Tu Books and the winner of the Lee & Low New Visions Award, was inspired by this family story.
In 1942, ten-year-old Anjali, who is Hindu, and her best friend Irfaan, who is Muslim, run into trouble when they paint independence graffiti on the British compound. Upon her return home, Anjali discovers that her family's involvement in the struggle is greater than she'd believed, as her mother has left her job with the British administrator Captain Brent and committed to a life of activism. As part of that, she burns her and Anjali's clothing, replacing them with simple homespun clothing, and cleans her own toilets rather than hiring those of the lowest caste to do the work. Continue reading.
Note: We also recommend Supriya Kelkar's subsequent novel, Strong as Fire, Fierce as Flame.
---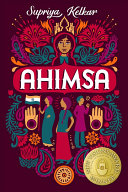 Ahimsa
by
Supriya Kelkar
on 2017
Genres:
Asia
,
Historical Fiction
,
Muslim
,
OwnVoices
,
People & Places
,
Refugees
,
War
,
World History
Pages:
304
Reading Level:
Grades 3-5
,
Grades 6-8
ISBN:
9781620143568
Review Source:
Pirate Tree
Buy at Powell's Books
Publisher's Synopsis: In 1942, when Mahatma Gandhi asks Indians to give one family member to the freedom movement, ten-year-old Anjali is devastated to think of her father risking his life for the freedom struggle.

But it turns out he isn't the one joining. Anjali's mother is. And with this change comes many more adjustments designed to improve their country and use "ahimsa"--non-violent resistance--to stand up to the British government. First the family must trade in their fine foreign-made clothes for homespun cotton, so Anjali has to give up her prettiest belongings. Then her mother decides to reach out to the Dalit community, the "untouchables" of society. Anjali is forced to get over her past prejudices as her family becomes increasingly involved in the movement.

When Anjali's mother is jailed, Anjali must step out of her comfort zone to take over her mother's work, ensuring that her little part of the independence movement is completed.

Inspired by her great-grandmother's experience working with Gandhi, New Visions Award winner Supriya Kelkar shines a light on the Indian freedom movement in this poignant debut.