Reviewed by Lyn Miller-Lachmann
Source: DeColores
Author: Christina Diaz Gonzalez
Díaz González's second novel mines her rich family history originating in the Basque region of Spain, specifically the experiences of her grandparents and great-grandparents who came to the Americas following the Spanish Civil War.
Drawing from their lives and culture, she weaves an original and powerful story of a 12-year-old girl caught up in this war, which began with General Francisco Franco's invasion of the Spanish Republic from Morocco with the help of Hitler and Mussolini in 1936.
While the war continued until Franco's victory in 1939, the novel culminates with the bombing in 1937 of the Basque city of Guernica by Nazi forces allied with Franco's Nationalist (fascist) army. Continue reading.
---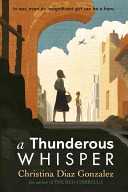 A Thunderous Whisper
by
Christina Diaz Gonzalez
Published by
Alfred A. Knopf
on 2013
Genres:
Young Adult
,
Europe
,
Social Themes
Pages:
309
ISBN:
9780375873713
Review Source:
De Colores: The Raza Experience in Books for Children
Buy at Powell's Books
Publisher's synopsis: In the midst of the Spanish Civil War, 12-year-old Ani unexpectedly gets drawn into a network of underground rebels working to thwart Franco's efforts to destroy the Basque people's way of life. . . . Exciting." -- "SLJ" Ani believes she is just an insignificant whisper of a girl in a loud world. This is what her mother tells her anyway. Her father made her feel important, but he's been off fighting in Spain's Civil War, and his voice in her head is fading. Then she meets Mathias. His family has just moved to Guernica and he's as far from a whisper as a boy can be. Ani thinks Mathias is more like lightning. Mathias's father is part of a spy network and soon Ani finds herself helping him deliver messages to other members of the underground. For the first time, she's making a difference in the world. And then her world explodes. The sleepy little market town of Guernica is destroyed by Nazi bombers. In one afternoon Ani loses her city, her home, her mother. But in helping the other survivors, Ani gains a sense of her own strength. And she and Mathias make plans to fight back in their own unique way.