Reviewed by Bridget Feldman
Review Source: Independent
Book Author: Anne Sibley O'Brien
A Path of Stars by Anne Sibley O'Brien explores the joys and sorrows that dwell within the childhood memories of an elderly Cambodian woman. Through O'Brien's use of vivid imagery and powerfully emotive language, these stories are passed down to young Dara by her grandmother, Lok Yeay.
This children's book does an excellent job of depicting an honest, yet non-graphic, portrayal of the pain and suffering caused by the Khmer Rouge's near destruction of Cambodia. It stresses the importance of knowing one's heritage by illustrating the value of stories being passed down through generations—even if the stories aren't always entirely cheerful ones. Above all else, the book emphasizes the bond between family, and that in sharing our stories with those we love, we can begin to heal.
A very brief historical summary of the actions of the Khmer Rouge is included at the back of the book; however, the book makes no mention of U.S. involvement in Southeast Asia in the time period leading up to the rise of the Khmer Rouge.
Recommended for Pre-K to Grade 3.
---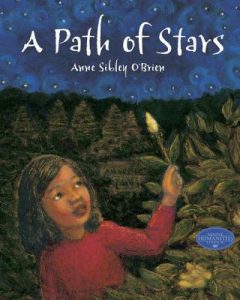 A Path of Stars
by
Anne Sibley O'Brien
Published by
Charlesbridge
on 2012
Genres:
Asia
,
Family
Pages:
40
Reading Level:
Grade K
ISBN:
9781570917363
Review Source:
Independent
Publisher's Synopsis: A refugee from Cambodia, Dara's beloved grandmother is grief-stricken when she learns her brother has died, and it is up to Dara to try and heal her.