Reviewed by Sam Bloom
Review Source: Reading While White
Book Author: Bao Phi
A boy and his dad go fishing early one morning, but this trip isn't just about father-son bonding time:
"'[W]hy do we still have to fish for food?' I ask.
'Everything in America costs a lot of money,' [Dad] explains."
This particular morning they fish in relative quiet; the boy and his father don't see the Hmong man "who speaks English like my dad and likes to tell funny jokes," or the African American man with his colorful collections of fishing lures. Dad tells the boy, "I used to fish by a pond like this one when I was a boy in Vietnam." It's not something Dad talks about often, his time in Vietnam, and we soon find out why: "He and his brother fought side by side [in the Vietnam War]. One day, his brother didn't come home."
We also see how much the boy idolizes his father through the interplay between Phi's text and Bui's art. When he starts the fire going "with just one match," the boy earns a nod of approval from Dad – a close-up (in its own panel) shows the boy's proud smile. And when Dad relays this story of triumph to Mom, the boy stands in profile, smiling warmly in the foreground while helping in the kitchen.  Continue reading.
---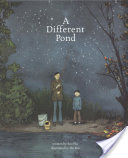 A Different Pond
by
Bao Phi
Published by
Capstone
on January 1st 2017
Genres:
Asia
,
Asian American
,
Family
Pages:
32
Reading Level:
Grades 1-2
ISBN:
9781479597468
Review Source:
Reading While White
Buy at Powell's Books
Publisher's synopsis: Acclaimed poet Bao Phi delivers a powerful, honest glimpse into a relationship between father and son - and between cultures, old and new. A Different Pond is an unforgettable story about a simple event - a long-ago fishing trip. As a young boy, Bao Phi awoke early, hours before his father's long workday began, to fish on the shores of a small pond in Minneapolis. Unlike many other anglers, Bao and his father fished for food, not recreation. A successful catch meant a fed family. Between hope-filled casts, Bao's father told him about a different pond in their homeland of Vietnam. The New York Times has said that Bao Phi's poetry "rhymes with the truth." Kirkus Reviews calls A Different Pond "a must-read for our times". Thi Bui's striking, evocative art paired with Phi's expertly crafted prose has earned this powerful picture books six starred reviews.