Reviewed by Debbie Reese
Review Source: American Indians in Children's Literature
Book Author: Cecelia LaPointe
In 2018, Ajijaak – Crane was published by Waub Ajijaak Press, in Manistee, Michigan. Written by Cecilia Rose LaPointe, illustrated by Dolly Peltier, and translated into Anishinaabe by Margaret Noodin, it is one I am pleased to recommend.
The story opens with Crane standing beside a marsh. Crane flies over the land and sees a mole, a red squirrel, a chipmunk, a robin, a crow, a painted turtle, and a dragonfly. They are digging, collecting and harvesting things.
One day, Crane flies to the nearby creek, but there are no salmon in it because a factory polluted the water. All the creatures work together to say Noogishkadaa chi-anokiiwigamig! (Stop the factory!). Soon, the factory closes and the creek begins to heal. Continue reading.
---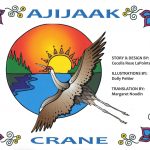 Ajijaak - Crane
by
Cecelia LaPointe
on December 7, 2017
Genres:
American Indians, First Nations, Metis, Inuit
,
Environment
Pages:
30
Reading Level:
Grade K
,
Grades 1-2
,
Grades 3-5
ISBN:
9780692987902
Review Source:
American Indians in Children's Literature
Publisher's Synopsis:

Ajijaak is in its home territory meeting other birds, amphibians, and animals along the way to defend the land and water. A factory has polluted the land and ajijaak gathers friends to stop the factory. Ultimately the factory closes and the creek can heal. This is a creative and empowering story for kids of all ages about environmental and healing justice.