Reviewed by Beverly Slapin
Review Source: American Indians in Children's Literature
Book Author: Joseph Bruchac
Joe Bruchac is not yet known for his YA werewolf/vampire/espionage novels, but this talented writer can sure pull off the genre(s). Middle readers who have the ability to suspend disbelief will relate to the teen protagonist, an Abenaki wolf-boy with multiple challenges. Such as doing well in school and winning over the girl he really likes. Such as keeping himself from ripping out someone's throat when he's annoyed or angry. Such as rescuing his father from a megalomaniac gene-blending scientist who's plotting to take over the world.
In Wolf Mark, everything is extreme: the action, the gore, the metaphors, the allusions to uncontrolled corporate greed that threatens to devour us all. And amidst all of this, Bruchac takes every opportunity to bust stereotypes: about American Indians, about women, about Muslims, about Russians, about werewolves and vampires. Continue reading.
Find more reviews and articles about Joseph Bruchac's work at American Indians in Children's Literature.
A different opinion: Edith Campbell wrote a short review of Wolf Mark, "Bruchac's writing skills easily intrigued me as he made me wonder why things were as they were and what was going to happen. The problem with building so much suspense is that the subsequent events need to be equivalent in emotional impact. These weren't. A reader can only take so many let downs! The author's voice was quite noticeable in the lengthy, academic explanations of occurrences and I eventually became quite annoyed with Luke. Once a reader stops liking the main character, it's difficult to like the story. I hate that this was my first Bruchac. I have several other of his books and I look forward to reading those soon."
---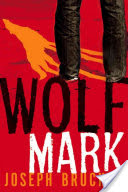 Wolf Mark
by
Joseph Bruchac
Published by
Lee & Low Books
on 2011
Genres:
American Indians First Nations Metis Inuit
,
Mysteries and Detective Stories
,
Science Fiction/Fantasy
Pages:
377
Reading Level:
High School
ISBN:
9781600606618
Review Source:
American Indians in Children's Literature
Buy at Powell's Books
Publisher's synopsis: Luke King knows a lot of things. Like four different ways to disarm an enemy before the attacker can take a breath. Like every detail of every book he's ever read. And Luke knows enough-just enough-about what his father does as a black ops infiltrator to know which questions not to ask. Like why does his family move around so much?
Luke just hopes that this time his family is settled for a while. He'll finally be able to have a normal life. He'll be able to ask the girl he likes to take a ride with him on his motorcycle. He'll hang out with his friends. He'll be invisible-just as he wants.
But when his dad goes missing, Luke realizes that life will always be different for him. Suddenly he must avoid the kidnappers looking to use him as leverage against his father, while at the same time evading the attention of the school's mysterious elite clique of Russian hipsters, who seem much too interested in Luke's own personal secret. Faced with multiple challenges and his emerging paranormal identity, Luke must decide who to trust as he creates his own destiny.