Reviewed by Meena Khorana
Book Source: African Access
Book Author: Arushi Raina
Set against the background of the 1976 Soweto student march against the Bantu Education Act, When Morning Comes is a multi-faceted novel that covers many important themes: the segregation of Black, White, and Indian racial groups in apartheid South Africa; the intelligence and determination of Black youth to plan and execute a political movement; adolescent idealism to give up all for a cause they passionately believe in; interracial cooperation; and a love triangle. Arushi Raina employs plot, characterization, and narrative style to advance the above themes with sophistication.
Told through the first-person voices of four young revolutionaries — Zanele and Thabo (Black), Jack (White), and Meena (Indian) — the story weaves back and forth from the opulent homes of the privileged Whites, to the poverty and overcrowding of Soweto, and to the in-between world of the Indian community. The book especially provides insight into the role of the relatively unseen Indian community. As Meena states, "To be neither black nor white was to have different unclear loyalties. It wasn't assumed that we were political agitators" (46). Through the first-person voices of these characters we learn that they are further separated because of the biases, stereotypes, and experiences they have been exposed to about other races. However, in spite of these rigid distinctions, the main characters cross racial barriers in order to fulfill their political or romantic aims.  Continue reading.
---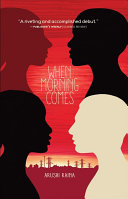 When Morning Comes
by
Arushi Raina
Published by
Tradewind Books
on 2017
Genres:
Africa
Pages:
232
Reading Level:
Grades 6-8
,
High School
ISBN:
9781896580692
Review Source:
Africa Access
Publisher's Synopsis: Zanele is skipping school and secretly plotting against the apartheid government. The police can't know. Her mother and sister can't know. Her best friend Thabo, schoolboy turned gang member, can tell she's up to something. But he has troubles of his own--a deal gone wrong and some powerful enemies. Across the bridge, in the wealthy white suburbs, Jack plans to spend his last days in Johannesburg burning miles on his beat-up Mustang--until he meets a girl with an unforgettable face from the simmering black township--Soweto. Working in her father's shop, Meena finds a packet of banned pamphlets. They lead to a mysterious black girl with a secret, a dangerous gangster with an expensive taste in clothes, and an engaging white boy who drives a battered red car. A series of chance meetings changes everything. A chain of events is set in motion--a failed plot, a murdered teacher, and a secret movement of students that has spread across the township. And the students will rise.