Reviewed by Beverly Slapin
Review Source: De Colores
Book Author: Susan Kuklin
The original title of Kuklin's book of interviews with undocumented young people was to be Out of the Shadows: Voices of Undocumented Young Adults. This was during the time of the Obama administration's DACA (Deferred Action for Childhood Arrivals) program, which allowed individuals who were brought to the US as babies or children without documentation—US passports, green cards, or visas—to receive renewable two-year periods of deferred action from deportation and become eligible for Social Security, work permits, driver's licenses and other necessary documentation. The book was to feature Kuklin's stunning portraits of the young tellers who were, indeed, out of the shadows.
However, after the book was imagined and planned and accepted by Candlewick Press for a 2017 release, the interviews accomplished, the portraiture shot and developed, and the book laid out and ready to go to print—the incoming Trump administration moved to repeal DACA, spreading hateful, divisive messages about immigrants, migrants, and refugee and asylum seekers. And the young people, among some 700,000, were forced back into the shadows.
A painful decision had to be made, and everyone decided to stop the presses. But after some two years, during which this volume of young people's important, truth-telling stories sat in a drawer somewhere, all agreed—Kuklin, Candlewick, and the courageous young people themselves—to bring the book into publication. This was too important, they all said in their own ways, to leave it unpublished. At the same time, it was decided that changes had to be made for the protection of these young people. Here, they are referred to only by their first initials, empty frames replace their portraits, and all other identifying information has been redacted. As Kuklin told me (see interview below), their safety was everyone's first priority.
In We Are Here to Stay: Voices of Undocumented Young Adults, nine young people from Colombia, Mexico, Ghana, Independent Samoa, and South Korea—now living under the constant threat of deportation to their countries of birth—narrate their "American" lives and, for those who remember, what their lives were like in their countries of birth and what circumstances brought them here. Each chapter is narrated by one or more of the young people. Their narrations are raw and honest.  Continue reading.
---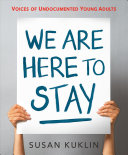 We Are Here to Stay: Voices of Undocumented Young Adults
by
Susan Kuklin
Published by
Candlewick Press
on January 8, 2019
Genres:
Immigration and Emigration
Pages:
192
Reading Level:
Grades 6-8
ISBN:
9780763678845
Review Source:
De Colores: The Raza Experience in Books for Children
Buy at Powell's Books
Publisher's Synopsis: The Stonewall Honor-winning author of Beyond Magenta shares the intimate, eye-opening stories of nine undocumented young adults living in America.

"Maybe next time they hear someone railing about how terrible immigrants are, they'll think about me. I'm a real person."

Meet nine courageous young adults who have lived in the United States with a secret for much of their lives: they are not U.S. citizens. They came from Colombia, Mexico, Ghana, Independent Samoa, and Korea. They came seeking education, fleeing violence, and escaping poverty. All have heartbreaking and hopeful stories about leaving their homelands and starting a new life in America. And all are weary of living in the shadows. We Are Here to Stay is a very different book than it was intended to be when originally slated for a 2017 release, illustrated with Susan Kuklin's gorgeous full-color portraits. Since the last presidential election and the repeal of DACA, it is no longer safe for these young adults to be identified in photographs or by name. Their photographs have been replaced with empty frames, and their names are represented by first initials. We are honored to publish these enlightening, honest, and brave accounts that encourage open, thoughtful conversation about the complexities of immigration -- and the uncertain future of immigrants in America.