Reviewed by Irene Rideout
Review Source: Grace Lin Blog
Book Author: Arlene Mosel
As a child, did you love Tikki Tikki Tembo by Arlene Mosel? Did you find the absurdly long name "Tikki Tikki Tembo-no Sa Rembo-chari Bari Ruchi-pip Peri Pembo" intoxicatingly fun to chant or sing? First published in 1968, the book has won some honors:
In 1968, it won the Boston Globe – Horn Book Award for Picture Books.
In 1997, the New York Times named it "one of the 50 best books in the last 50 years."
In 2007, the book was #53 on the National Education Association's Teachers' Top 100 Books for Children.
The Fall 2009 Audio Book version was Parents' Choice Approved by the Parents' Choice Foundation.
When I overheard my half-Chinese/half-Caucasian 6-year-old daughter singing the name a couple months ago, I had to ask her where she learned it. "In music class, at school," she replied. And to tell you the truth, I felt uneasy.
My first encounter with Tikki Tikki Tembo occurred around middle school. A Chinese-American friend was talking about the way other kids chanted "Tikki Tikki Tembo" around her. I had never heard those words before, so I asked her, "What does that mean?" The quiet seriousness of her response struck me. She looked me in the eye and said, "It's racist." Continue reading.
---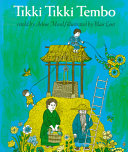 Tikki Tikki Tembo
by
Arlene Mosel
Published by
Henry Holt and Company (BYR)
on September 15, 1989
Genres:
Asia
Pages:
48
Reading Level:
Grade K
,
Grades 1-2
ISBN:
9780805011661
Review Source:
Grace Lin Blog
Publisher's Synopsis: Tikki tikki tembo-no sa rembo-chari bari ruchi-pip peri pembo!

Three decades and more than one million copies later children still love hearing about the boy with the long name who fell down the well. Arlene Mosel and Blair Lent's classic re-creation of an ancient Chinese folktale has hooked legions of children, teachers, and parents, who return, generation after generation, to learn about the danger of having such an honorable name as Tikki tikki tembo-no sa rembo-chari bari ruchi-pip peri pembo.