Reviewed by Edith Campbell
Review Source: Cotton Quilts
Book Author: Varian Johnson
Candace Miller, a young African American girl, and her mother move into the home that once belonged to her grandmother while their own home is being renovated. Her parents have divorce and they need to prepare the house for sale. This temporary residence is in Lambert, South Carolina and quite far from her home in Atlanta, Georgia. Lambert is a town with a hidden past that is presented in alternating chapters from the 1950s. Candace is pulled into its story when she discovers a letter sent to her grandmother about a buried treasure.
Varian Johnson, with a background in math and engineering, is the perfect author to create the history of this town and bury an inheritance in it. He scaffolds events and evidence in ways that our young sleuths, Candace and her new African American male friend Brandon Jones, are able to strategically solve the town's mystery: who left millions of dollars to the city and where did they leave it. They cannot successfully solve the mystery without knowing the events that led this mysterious person to want to leave the inheritance in the first place. Continue reading.
---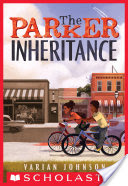 The Parker Inheritance
by
Varian Johnson
Published by
Scholastic Inc.
on March 27th 2018
Genres:
Friendship
,
Historical Fiction
,
Mysteries and Detective Stories
Pages:
352
Reading Level:
Grades 3-5
,
Grades 6-8
ISBN:
9780545952798
Buy at Powell's Books
Three starred reviews! "A clever puzzle, a hidden treasure, and a couple of kids you'll wish were your friends...Dive in!" - Sara Pennypacker, author of Pax When Candice finds a letter in an old attic in Lambert, South Carolina, she isn't sure she should read it. It's addressed to her grandmother, who left the town in shame. But the letter describes a young woman. An injustice that happened decades ago. A mystery enfolding the letter-writer. And the fortune that awaits the person who solves the puzzle. So with the help of Brandon Jones, the quiet boy across the street, she begins to decipher the clues. The challenge will lead them deep into Lambert's history, full of ugly deeds, forgotten heroes, and one great love; and deeper into their own families, with their own unspoken secrets. Can they find the fortune and fulfill the letter's promise before the answers slip into the past yet again?