Reviewed by Conner Suddick
Review Source: Teaching for Change
Book Author: M. G. Hennessey
Twelve-year-old Shane Woods is a lovable, creative, and athletic boy navigating the interplay of his gender identity, social life, and family dynamics. In The Other Boy, M. G. Hennessey depicts Shane's journey as he grapples with his identity as a transgender person. His entire life, Shane knew he was born in the wrong body. He knew he was a boy, not a tomboy. After moving from San Francisco to Los Angeles with his mother, Shane socially transitions as a boy at his new middle school. Soon after, he becomes the star pitcher of his baseball team and develops a crush on a girl in his homeroom. M.G. Hennessey beautifully captures how Shane is living the double-life of trying to be true to himself, while figuring out who he is.
Shane is an only child and his parents are divorced. Readers are introduced to ways that parents can either empower their child or completely erase them. While the latter behavior was well-intended, Hennessey captures the aching reality of microaggressions from misgendering to paternalistic parenting as Shane starts hormone treatment. Capturing these family dynamics, while illustrating the perspective of Shane, allows readers to understand the challenges associated with transitioning.
Despite the hardships presented in the book, Shane experiences a best case scenario. Often transgender youth do not have supportive parents, school administrators, teachers, and may not have access to hormone treatments or mental health services. This book provides a powerful ending that many transgender youth will likely not experience. However, I believe that is what makes this book incredibly beautiful. All too often, LGBTQ+ representation in media focuses solely on the tragedies LGBTQ+ encounter. This said, all of the media that exists about a given population cannot solely be about the barriers they encounter. As an LGBTQ+ person, I want to see stupid romantic comedies, or see characters whose sexuality and gender identity are accepted by their peers. Queer representation needs to be holistically authentic, rather than showcasing our identities for a heartbreaking story arc or mindless punchline. In my view, The Other Boy achieves a realistic but empowering plot that reminds many of us that LGBTQ+ identities are not synonymous with tragedy.
This book is an excellent read for anyone wanting to learn more about the journey of a transgender boy who is coming of age. Hennessey captures raw emotion and uses powerful, yet simple, language that truly allows readers to empathize with Shane's journey. While geared toward middle school readers, this book is an excellent narrative for parents, teachers, school administrators, or allies wanting to consume LGBTQ+ content. Transgender people are often excluded from authentic representation. The Other Boy centers the voice of a transgender boy, both through the writing and excerpts from Shane's graphic novel that he is creating.
Ultimately, The Other Boy addresses harassment, betrayal, community building, and resilience. Through all the hardships Shane endures during this turbulent time, his story reminds readers about the power of community. People can be cruel, yet our stories do not have to be driven by those people or our inner demons. Rather, we can find the light in one another through having honest dialogue, cultivating our interests, and investing time into those that love us, rather than those who want to extinguish us.
Conner Suddick was a Truman Scholar interning with Teaching for Change in 2019. 
---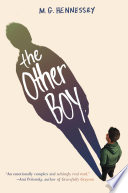 The Other Boy
by
M. G. Hennessey
Published by
HarperCollins
on September 20, 2016
Genres:
LGBTQ
Pages:
240
Reading Level:
Grades 6-8
ISBN:
9780062427687
Review Source:
Teaching for Change
Buy at Powell's Books
Publisher's Synopsis: A beautifully heartfelt story about one boy's journey toward acceptance. A book that Jill Soloway, the award-winning creator of Transparent, called "a terrific read for all ages" and Ami Polonsky, author of Gracefully Grayson, called "an emotionally complex and achingly real read."

Twelve-year-old Shane Woods is just a regular boy. He loves pitching for his baseball team, working on his graphic novel, and hanging out with his best friend, Josh.

But Shane is keeping something private, something that might make a difference to his friends and teammates, even Josh. And when a classmate threatens to reveal his secret, Shane's whole world comes crashing down.

It will take a lot of courage for Shane to ignore the hate and show the world that he's still the same boy he was before. And in the end, those who stand beside him may surprise everyone, including Shane.