Reviewed by Debbie Reese
Review Source: American Indians in Children's Literature
Book Author: Emily M. Danforth
emily m. danforth's The Miseducation of Cameron Post made quite a splash when it was published in 2012. Published by Balzar + Bray (an imprint of HarperCollins), it won the 2012 Montana Book Award, was a finalist for the William C. Morris Young Adult Debut Award, and was named a winner in the young adult category of the 2013 Lamba Literary Awards. Here's the synopsis:
Set in rural Montana in the early 1990s, emily m. danforth's The Miseducation of Cameron Post is a powerful and widely acclaimed YA coming-of-age novel in the tradition of the classic Annie on My Mind. Cameron Post feels a mix of guilt and relief when her parents die in a car accident. Their deaths mean they will never learn the truth she eventually comes to — that she's gay. Orphaned, Cameron comes to live with her old-fashioned grandmother and ultraconservative aunt Ruth. There she falls in love with her best friend, a beautiful cowgirl. When she's eventually outed, her aunt sends her to God's Promise, a religious conversion camp that is supposed to "cure" her homosexuality. At the camp, Cameron comes face to face with the cost of denying her true identity.
I know about Adam Red Eagle, one of the characters in it, because someone wrote to tell me about him. I've read a lot of reviews of the book — professional and not — and am not finding reference to Adam. At all. Does he not matter? Or did he not stand out? If you read The Miseducation of Cameron Post, do you remember Adam?
As the synopsis says, Cameron is sent to a religious conversion camp to "cure" her homosexuality. That's where she meets Adam. This all takes pace in Part III: Gods Promise: 1992-1993. When Cameron gets to Promise, she is greeted by Jane, one of the students who she'll become friends with. Soon, a group of students return from an outing to the nearby lake. As they get out of the van, they say something to Cameron, to welcome her (p. 271):
Adam said he'd heard that I was a runner, and that he ran in the mornings and had seen tons of elk and deer and even a moose once or twice.
There's brief hugs, some pleasantries, and then (p. 272):
One final embrace from Adam shrouded me briefly in a sweet, sticky smell that I struggled for a moment to identify, but only because of my surroundings. In the embrace's release I caught the scent again. Unmistakable. Marijuana.
Later, Cameron asks Jane if all the kids were high, and learns that Jane is the source of the pot. Jane, Adam, and Cameron will soon start hanging out together during their free time. Continue reading.
---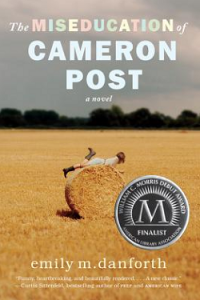 The Miseducation of Cameron Post
by
Emily M. Danforth
Published by
Harper Collins
on February 7, 2012
Genres:
American Indians First Nations Metis Inuit
,
LGBTQ
Pages:
480
ISBN:
9780062101969
Review Source:
American Indians in Children's Literature
Publisher's Synopsis: The acclaimed book behind the 2018 Sundance Grand Jury Prize-winning movie.

"LGBTQ cinema is out in force at Sundance Film Festival," proclaimed USA Today. "The acerbic coming-of-age movie is adapted from Emily M. Danforth's novel, and stars Chloë Grace Moretz as a lesbian teen who is sent to a gay conversion therapy center after she gets caught having sex with her friend on prom night."
The Miseducation of Cameron Post is a stunning and provocative literary debut that was named to numerous best of the year lists.

When Cameron Post's parents die suddenly in a car crash, her shocking first thought is relief. Relief they'll never know that, hours earlier, she had been kissing a girl.
But that relief doesn't last, and Cam is forced to move in with her conservative aunt Ruth and her well-intentioned but hopelessly old-fashioned grandmother. She knows that from this point on, her life will forever be different. Survival in Miles City, Montana, means blending in and leaving well enough alone, and Cam becomes an expert at both.

Then Coley Talor moves to town. Beautiful, pickup-driving Coley is a perfect cowgirl with the perfect boyfriend to match. She and Cam forge an unexpected and intense friendship, one that seems to leave room for something more to emerge. But just as that starts to seem like a real possibility, Aunt Ruth takes drastic action to "fix" her niece, bringing Cam face-to-face with the cost of denying her true self — even if she's not quite sure who that is.

Don't miss this raw and powerful own voices debut, the basis for the award-winning film starring Chloë Grace Moretz.