Reviewed by Debbie Reese
Review Source: American Indians in Children's Literature
Book Author: Teddy Anderson
Several people in Canada have written to ask me about a self-published book that is being promoted via social media.
From the author's website is this: "Medicine Wheel: Stories of a Hoop Dancer" is a recently published children's book written by Teddy Anderson, a professional hoop dancer of the First Nation's style who has performed in 20 countries across the world. His performances, as well as the book, teach the concept of using the First Nation's symbol of the Medicine Wheel."
Performing in a "First Nation's style"—is a huge red flag. Anderson isn't saying he's Native, but he is using his version of Native cultures to promote a "one family" philosophy that we're all supposed to revere. Continue reading.
---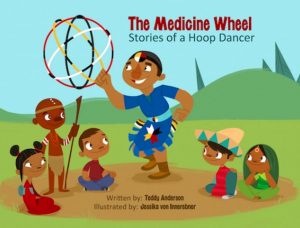 The Medicine Wheel
by
Teddy Anderson
Published by
Medicine Wheel Education Incorporated
on 2014
Genres:
American Indians, First Nations, Metis, Inuit
,
Art
Pages:
40
Reading Level:
Grades 1-2
ISBN:
9780993869402
Review Source:
American Indians in Children's Literature
SYNOPSIS: The Hoop Dance and the Medicine Wheel are powerful symbols of unity, cooperation, and harmony. The Medicine Wheel's four colours - black, red, yellow, and white - represent the various nations and people of the Earth. In Teddy's first book, he shares his vision of a world where knowledge guides our steps on a path of love, where all people see themselves as members of ONE FAMILY.