Reviewed by Lyn Miller Lachman
Review Source: Pirate Tree
Book Author: Angie Thomas
The Hate U Give is inspired by THUG LIFE, Tupac Shakur's famous acronym that stood for "The Hate U Give Little Infants F***ks Everybody." (Sorry, but this is a family-friendly blog.) It is both a statement that Black lives matter and the story of a 16-year-old girl, Starr Carter, with her own life and problems who is thrust into the spotlight when she accepts a ride home from a party with childhood friend Khalil, only to watch police stop the car and shoot him before her eyes.
Her beloved uncle is a police officer, caught in the middle when she bravely testifies against Officer One-Fifteen, who treated her and her friend abusively before gunning down her friend. Starr, whose mother is a nurse and whose father owns a grocery store in their mostly poor, mostly African-American community, attends a private school in a suburb 45 minutes away and navigates the two very different worlds, serving as a guide to readers through her first person narrative.
Hardly an activist before the shooting (though a picture of Emmett Till's body that she posted on her Tumbler the previous year led to tension with one school friend), Starr learns both the importance of and the costs of speaking out. Often the cognitive dissonance – she writes, "I hope none of them asks about my spring break. They went to Taipei, the Bahamas, Harry Potter World. I stayed in the hood and saw a cop kill my friend." – seems too much for her to bear. Continue reading.
Find an additional review at The Atlantic, The Hate U Give Enters the Ranks of Great YA Novels.
More books on this topic are on our Policing booklist.
---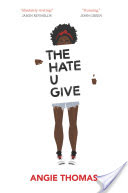 The Hate U Give
by
Angie Thomas
Published by
HarperCollins
on February 28, 2017
Genres:
Activism
,
African American
,
Family
,
OwnVoices
,
Racism
,
School
,
Teen Years
Pages:
464
Reading Level:
High School
ISBN:
9780062498557
Review Source:
Pirate Tree
Publisher's synopsis: Eight Starred Reviews! #1 New York Times Bestseller!
"Absolutely riveting!" —Jason Reynolds
"Stunning." —John Green
"This story is necessary. This story is important." —Kirkus Reviews (starred review)
"Heartbreakingly topical." —Publishers Weekly (starred review)
"A marvel of verisimilitude." —Booklist (starred review)
"A powerful, in-your-face novel." —The Horn Book (starred review)
Sixteen-year-old Starr Carter moves between two worlds: the poor neighborhood where she lives and the fancy suburban prep school she attends. The uneasy balance between these worlds is shattered when Starr witnesses the fatal shooting of her childhood best friend Khalil at the hands of a police officer. Khalil was unarmed.
Soon afterward, his death is a national headline. Some are calling him a thug, maybe even a drug dealer and a gangbanger. Protesters are taking to the streets in Khalil's name. Some cops and the local drug lord try to intimidate Starr and her family. What everyone wants to know is: what really went down that night? And the only person alive who can answer that is Starr.
But what Starr does—or does not—say could upend her community. It could also endanger her life.