Reviewed by Debbie Reese
Review Source: American Indians in Children's Literature
Book Author: Hetxw'ms Gyetxw Brett D. Huson
Teachers! Get The Grizzly Mother for your classroom — and ask your librarian to get in on the library shelves, too! Written by Hetxw'ms Gyetxw (Brett D. Huson) and illustrated by Natasha Donovan, it will be released on September 1, 2019, from Highwater Press.
Gyetxw is of the Gitxsan Nation in British Columbia and Donovan is of the Métis Nation of British Columbia. The Grizzly Mother is nonfiction that begins with a section called "Awakening." As you might imagine, the contents of that section are about the grizzly mother and her cubs waking in the springtime. It concludes with "A Final Run" that takes place three years later at a salmon run.
The final page in The Grizzly Mother is about the Gitxsan Nation. I especially like the first sentence. It begins with information about where the Gitxsan Nation is located and also says:
… land that cradles the headwaters of Xsan or "the River of Mist," also known by its colonial name, the Skeena River.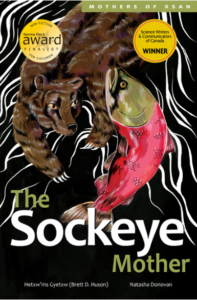 What I mean, of course, is "also known by its colonial name." It provides teachers and parents with the opportunity to teach children that Indigenous peoples were on this land already when Europeans arrived and colonized it. We need that factual information in nonfiction and fiction set in what is currently called North America.
Gyetxw and Donovan worked together on The Sockeye Mother a few years ago. It got starred reviews and high praise from science teachers. See the gold seals on the cover? I anticipate similar praise will be forthcoming for The Grizzly Mother.
Both books include Gitxsan words throughout, and both show the relationship between human beings and animals without romanticizing that relationship or anthropomorphizing the animals. Continue reading.
---

The Grizzly Mother
by
Hetxw'ms Gyetxw Brett D. Huson
Published by
Portage & Main Press
on September 23, 2019
Genres:
American Indians First Nations Metis Inuit
,
Environment
Pages:
32
Reading Level:
Grades 3-5
,
Grades 6-8
ISBN:
9781553797777
Review Source:
American Indians in Children's Literature
Also by this author:
The Frog Mother
Publisher's Synopsis: Book two in the award-winning Mothers of Xsan series, The Grizzly Mother uses striking illustration and lyrical language to bring the poetry of the Xsan ecosystem to life.

"Spellbinding." — Publishers Weekly, starred review

To the Gitxsan people of Northwestern British Columbia, the grizzly is an integral part of the natural landscape. Together, they share the land and forests that the Skeena River runs through, as well as the sockeye salmon within it. Follow mother bear as she teaches her cubs what they need to survive on their own.