Reviewed by David Eaton
Review Source: Africa Access
Book Author: William Kamkwamba, Bryan Mealer
The Boy Who Harnessed the Wind tells the story of William Kamkwamba, a young man in central Malawi who improvises a windmill out of bicycle and other scrap yard parts to produce electricity for his family's home. Its 28 pages of text, with a few lines at upper-primary level on each page are illustrated with oil paint and cut-paper collages of William's life at home and in the fields, and of his tinkering and construction of the windmill. These appealing collages are laid out simply and powerfully with rich color and delicate detail.
Two denser text pages appended to the story describe Kamkwamba's trajectory more fully, from his parents' farm and Malawi's famine to his TED conference speech in 2007 and his engineering studies at Dartmouth College. This illustrated book is a children's version of the bestselling book of the same title, with its associated blogs, promotional tours, and linked development projects. Continue reading.
---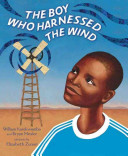 The Boy who Harnessed the Wind
by
William Kamkwamba
,
Bryan Mealer
Illustrator:
Elizabeth Zunon
Published by
Dial Books for Young Readers
on January 2012
Genres:
Africa
,
Biography and Autobiography
,
Science
Pages:
32
Reading Level:
Grades 1-2
ISBN:
9780803735118
Review Source:
Africa Access
Publisher's Synopsis: When fourteen-year-old William Kamkwamba's Malawi village was hit by a drought, everyone's crops began to fail. Without enough money for food, let alone school, William spent his days in the library . . . and figured out how to bring electricity to his village. Persevering against the odds, William built a functioning windmill out of junkyard scraps, and thus became the local hero who harnessed the wind.
Lyrically told and gloriously illustrated, this story will inspire many as it shows how - even in the worst of times - a great idea and a lot of hard work can still rock the world.