By Deborah Menkart (Editor), Alana D. Murray (Editor), Jenice L. View (Editor)
The 2004 Edition is no longer available for sale. A new edition will be available the summer of 2022.
Course Texts & Desk Copies |  Table of Contents | About the Editors | Endorsements
Description:
As one of the most commonly taught stories of people's struggles for social justice, the Civil Rights Movement has the capacity to help students develop a critical analysis of United States history and strategies for change. However, the empowering potential is often lost in a trivial pursuit of names and dates.
Putting the Movement Back into Civil Rights Teaching, published by Teaching for Change and PRRAC, provides lessons and articles for K-12 educators on how to go beyond a heroes approach to the Civil Rights Movement.
Winner of the 2004 Philip C. Chinn Multicultural Book Award, the book includes interactive and interdisciplinary lessons, readings, writings, photographs, graphics, and interviews, with sections on education, labor, citizenship, culture, and reflections on teaching about the Civil Rights Movement.
On the companion website, CivilRightsTeaching.org, you can find handouts and more information about many of the lessons in the book.
Product Details:
ISBN: 9781878554185
ISBN-10: 1878554182
Publisher: Teaching for Change
Publication Date: December 2004
Pages: 562
Language: English
Paperback Edition
---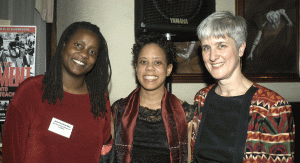 About the Editors
Deborah Menkart
Deborah Menkart is Executive Director of Teaching for Change, a non-profit organization working for social and economic justice by promoting equity-related teaching materials, offering professional development, and increasing parent power in schools. She is also the co-editor of Beyond Heroes and Holidays: A Practical Guide to K–12 Anti-Racist, Multicultural Education and Staff Development.
Menkart's activism began in junior high school when she joined protests of D.C.'s "taxation without representation" and the "dresses-only" dress code for girls. During the 1970s she lived in San Diego, California, where she worked as a shipyard electrician and was involved in the anti-war, women's, international solidarity, and labor movements.
Menkart received a B.A. in Human Services and a master's in curriculum and instruction from George Washington University, but attributes most of her learning to colleagues at Teaching for Change, Rethinking Schools, and the National Coalition of Education Activists.
Alana D. Murray
Alana D. Murray is an educator-activist who has taught world history on both the middle- and high-school levels in Montgomery County, Maryland public schools for seven years. She has created pilot lessons on African-American history, conducted youth leadership training workshops for several organizations (including the National Youth Leadership Forum) and has provided professional development to educators at conferences across the country. Murray has participated in the National Endowment for the Arts Summer Institute for Teachers and the Fulbright Summer Scholars program in Mexico.
Murray received a B.A. in government and politics from the University of Maryland and a M.A.T. from Brown University. Her work on this project stems from both professional and personal experience. She is the granddaughter of Donald Gaines Murray, whose landmark lawsuit against the University of Maryland Law School successfully desegregated the university. Her grandparents dedicated their careers to an equal education for all children and her parents instilled the critical roles of research and community organizing.
Jenice L. View
Jenice L. View is an Assistant Professor in the Graduate School of Education at George Mason University. For more than 20 years, View has worked with a variety of educational and non-governmental organizations, including a public charter school, the Just Transition Alliance, Rural Coalition, the Association for Community Based Education, and LISTEN, Inc. to create space for the voices that are often excluded from public policy considerations: women, people of color, poor urban and rural community residents, and especially youth. She has a B.A. from Syracuse University, an MPA-URP from Princeton, and a Ph.D. from the Union Institute and University.
View, a native of one of the last U.S. Colonies (Washington, D.C.), is the proud mother of two daughters, Ava and Leah. She hopes to pass on her inheritance of being a politically aware and socially active woman that she received from many including her paternal grandparents (among the first organizers in the Nation of Islam in the 1940s), and her parents (who have helped form and sustain many local D.C. community institutions).
---
Endorsements
"Breathtaking in its array of interdisciplinary lessons, readings, photographs, primary source documents, and interviews, this fertile resource helps students move beyond the "heroes approach" toward a more critical analysis of the civil rights movement."
—Social Studies School Service
"Everyone should learn the story of the Civil Rights Movement. The struggle is depicted here vividly and profoundly by a distinguished roster of authors. Their accounts and analysis should inspire teachers as well as students. This book is as academically rigorous as it is innovative—it is an excellent resource."
—Frank H. Wu
Professor, Howard University Law School
Author of Yellow: Race in America Beyond Black and White
"This strong and moving book helps introduce, inform, and illuminate for a new generation the powerful lessons of the civil rights movement for our work today. It will help teachers 'serve as midwives' for a more just and caring society."
—Linda Darling-Hammond
Charles E. Ducommun Professor of Education
Stanford University
"Civil rights teaching should lift up extraordinary leaders whose personal courage and sacrifice transformed our nation and our history. But it should also recognize the thousands of other acts of resistance and civil disobedience—by neighbors, grandmothers, youth, and everyday heroes—that created an unstoppable tidal wave of ethical conscience and human progress. Putting the Movement Back into Civil Rights Teaching is a unique collection of urgent voices who remind us that true and lasting movements for social, economic, and racial justice begin with you and me."
—Wendy D. Puriefoy
President, Public Education Network
"Putting the Movement Back into Civil Rights Teaching helps teachers and students understand the complexities of the change process in society, making the study of history immediately relevant. In this teaching guide, the Civil Rights Movement claims its rightful place as the inspiration for broader movements for democratic change. This book might just help re-inspire a whole new generation of teachers and students to a life of activism and movement building, not to mention help teachers impart a real understanding of history."
—Mark Simon
Director, MCEA (NEA)
Johns Hopkins University Center For Teacher Leadership
"Putting the Movement Back into Civil Rights Teaching gets to the roots of the Movement. It takes the reader beyond the famous leaders, displaying the depth of history, drawing international connections and showing how the pieces of the Movement actually fit together."
—Bill Fletcher Jr.
President, TransAfrica Forum
"This is a wonderful resource and will appeal to teachers who want their students to understand that they themselves can play a role in re-making the world."
—Nancy Murray
Director, Bill of Rights Education Project
ACLU of Massachusetts
"This is a much-needed resource for classrooms, and I think it does succeed in putting the Movement back into civil rights teaching!"
—Enid Lee
Co-editor, Beyond Heroes and Holidays
"It seems to me that the primary strength of this project is its breadth. The book covers a wide range of topics and concerns, including a variety of historical events, several Movement participants, and an array of pedagogical tools and strategies. The combination of lesson plans, historical information, and theoretical analysis makes this a compelling volume. I anticipate that it will be a valuable aid to teachers both in their teaching and in their own understanding of the Movement."
—Stephen Ward
Assistant Professor, Afro-American and African Studies
University of Michigan
"Putting the Movement Back into Civil Rights Teaching is one of the only curricula to connect the Civil Rights Movement to the struggles of Native Americans, Latinos, Asian Americans, and women. It's an incredible tool not just for teaching history, but also for teaching students to take up the legacy these movements helped to create."
—Ariana Quinones
Deputy Vice President for Education
National Council of La Raza