Review by Lyn Miller Lachman
Review Source: Pirate Tree
Book Author: Xavier Garza
Joe López, a seventh grader who loves to draw, is tired of seeing eighth grade bully Martín Corona push smaller kids around and steal their lunch money. When he disrupts the shakedown of Luis, one of the smaller sixth graders, Martín demands that Joe give him the five dollars.
Joe's best friend, Gary, loans him the money out of loyalty, but Joe doesn't want to give in. He knows that paying off Martín and his cronies will only make the situation worse. Continue reading.
---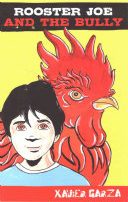 Rooster Joe and the Bully / Gallo Joe Y El Abuson
by
Xavier Garza
Published by
Arte Publico Press
on October 31, 2016
Genres:
Bilingual
,
Bullying
,
Latinx
,
OwnVoices
Pages:
128
Reading Level:
Grades 3-5
,
Grades 6-8
ISBN:
9781558858350
Review Source:
Pirate Tree
Buy at Powell's Books
Publisher's synopsis: This short novel for intermediate readers by acclaimed author and artist Xavier Garza features a seventh-grade boy juggling his desire to be an artist as successful as his grandfather, the need to escape a bully intent on taking him down and his interest in a new girl at school.