Reviewed by Debbie Reese
Review Source: American Indians in Children's Literature
Book Author: Sebastian Robertson
Decades ago—and now, too—I revel in the music of The Band. I was amongst those who went to see the film The Last Waltz. Of course, I bought CDs, too. At the time, I knew Robbie Robertson was Native, but didn't know much else about him. Today, I'm pleased as can be to share Rock and Roll Highway: The Robbie Robertson Story.
Thanks to this book, I've had the opportunity to learn a lot more about Robertson. Released this year (2014) by Henry Holt, the biography is written by Sebastian Robertson (yeah, Robbie's son). The illustrations by Adam Gustavson are terrific. Continue reading.
---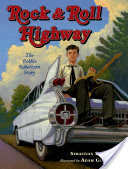 Rock and Roll Highway
by
Sebastian Robertson
Illustrator:
Adam Gustavson
Published by
Macmillan
on October 21st 2014
Genres:
American Indians, First Nations, Metis, Inuit
,
Biography and Autobiography
,
Music
,
U.S. History
Pages:
40
Reading Level:
Grades 1-2
ISBN:
9780805094732
Review Source:
American Indians in Children's Literature
Buy at Powell's Books
SYNOPSIS: Canadian guitarist and songwriter Robbie Robertson is known mainly for his central role in the musical group the Band. But how did he become one of Rolling Stone's top 100 guitarists of all time? Written by his son, Sebastian, this is the story of a rock-and-roll legend's journey through music, beginning when he was taught to play guitar at nine years old on a Native American reservation. Rock and Roll Highway is the story of a young person's passion, drive, and determination to follow his dream.