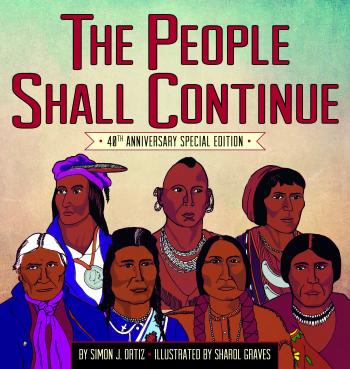 Reviewed by Debbie Reese
Review Source: American Indians in Children's Literature
Book Author: Simon J. Ortiz
Ortiz begins The People Shall Continue with Creation. Not Genesis, but Creation, as viewed by several different Indian tribes. From the opening pages of his book, children learn that there is more than one way to view Creation. And they learn about diversity in lifestyle, diversity that is dependent on place.
As the story continues, Ortiz tells us that "something unusual began to happen." That something is the arrival of what he calls "strange men" who came "seeking treasures and slaves." This happened to the People, everywhere. He tells us about resistance as he recounts the many ways in which the People persevered in the face of government efforts to stop us from being who we were and are.
His book, in short, offers a history of American Indians. Continue reading.
---
See a more recent review by Reading While White: Bring it Back: The People Shall Continue.
---

The People Shall Continue
by
Simon J. Ortiz
on 1994
Genres:
American Indians, First Nations, Metis, Inuit
Reading Level:
Grades 3-5
,
Grades 6-8
ISBN:
9780785735151
Review Source:
American Indians in Children's Literature
Native American poet Simon Ortiz traces the progress of Native Americans from the time of creation to the present.